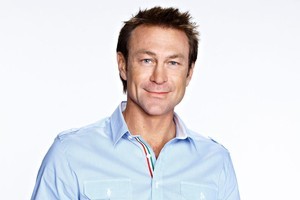 Best known as Wolfgang West from Outrageous Fortune, Kiwi actor Grant Bowler is over the moon with news he'll star in a unique upcoming TV series.
Speaking with the Herald on Sunday from his home overlooking the Pacific Ocean in Venice Beach, California, Bowler said Defiance would be a project unlike anything audiences had seen.
The series would merge TV and massive multiplayer online gaming for the first time. "It will become a conversation, so events in one place will inform events in the other."
Bowler said he was delighted he'd won the role of lead character Jeb this month. He said Jeb's traits reminded him of the tough, terse, tobacco-chewing cowboy Clint Eastwood played in The Outlaw Josey Wales.
Many other casting details of the series remained secret.
The Auckland-born actor had his big break in Aussie crime series Blue Heelers. He returned to New Zealand to play tough-guy Wolf West in Outrageous Fortune.
He crossed the Pacific and cemented his status as a regular TV star in America with appearances in True Blood and Ugly Betty.
All that travelling, he said, had consequences for his accent. "It wanders actually now. Most of the time, I narrate Border Security for Australia.
"I'll get pulled up by the actors for sounding like a Kiwi. Or I'll be in New Zealand working and get pulled up by someone saying I sound like an Aussie. Or I'll be here and get pulled up for either."
Bowler said he missed Robyn Malcolm and his other old mates from his time as Wolf West. He hoped to visit New Zealand at least once a year, though work commitments could prevent that.
He will move to Toronto in March to film Defiance.