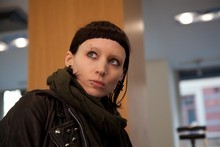 A few years on, it's still hard to fathom just how the late Stieg Larsson's Millennium trilogy - The Girl With The Dragon Tattoo, The Girl Who Played With Fire and The Girl Who Kicked The Hornet's Nest - became such a publishing phenomenon.
Somehow, these brutal potboilers following investigative left-wing journalist Mikael Blomkvist and his lover-accomplice, goth-hacker avenging angel Lisbeth Salander into a Swedish underworld became runaway international best-sellers.
A trilogy of films followed, originally made for Swedish television and with Michael Nyqvist and Noomi Rapace in the lead roles.
The first became an international arthouse hit, New Zealand included, though audience interest waned between the riveting first, the disappointing second and positively overwrought third movie.
Still, the Swedish pop culture explosion that Millennium ignited spread beyond Larsson's work - whether it was the BBC Wallander telefeatures (all of Henning Mankel's original Wallander novels having been made into Swedish films earlier) or the Danish television series Forbrydelsen's US cable TV remake as The Killing.
Now we're here with the Oscar season-targeted American studio version of Dragon Tattoo, by director David Fincher.
It's a return to the serial killer territory of his previous Se7en and Zodiac after the low bodycount successes of 2008's The Curious Case Of Benjamin Button and 2010's The Social Network.
The usual questions about Hollywood US remakes of European films still apply, mainly "why?" and "who's it for?"
But Fincher's Dragon Tattoo emerges as a riveting, hardboiled thriller and a better film than its Swedish prototype.
It's a grander production too, so while it might be prettier around the edges, it also manages to be just as ugly.
Fincher doesn't flinch from depicting the brutality visited upon Salander or the savage revenge she wreaks in return.
For those who saw her earlier incarnation it might be hard to shake the lasting impression that Rapace left as the first screen Lisbeth. But her second incarnation, by Rooney Mara, is really quite something.
This Dragon Tattoo is still set in Sweden, but it's a bleaker and snowier non-tourist board version of the country than the earlier film.
Its mostly American and British cast speak with mild Swedish accents, bar Daniel Craig as Blomkvist.
Casting the incumbent 007 as the rumpled, bespectacled hack is about the only hint of of Hollywood gloss Fincher offers here.
True, there are also those mad opening titles, an extravagantly computer animated S&M-themed liquid-rubber creation, cut frantically to the theme song, a caterwauling re-do of Led Zeppelin's Immigrant Song.
It's a sequence that seems to shout: "Behold my vast budget and grand vision, ye fans of yonder humble earlier movies and despair...".
It's also a startling intro to a movie, which, like many of Fincher's films, come delivered feeling precision-machined into place.
Its cinematography, editing, sound and soundtrack of Trent Reznor and Atticus Ross interlock into a gripping, unsettling film, one which holds the attention for nearly all of its two and half hours on screen.
Unfortunately, like the previous screen incarnation, it too suffers from including the book's anticlimax of an epilogue involving the industrialist whose successful libel case against Blomkvist sets off events at the start of the film.
But for the most part, it's easy to get swept up in the central mystery all over again. Even when there's not much actually going on but staring at old photos and retrieving dusty files, this has a relentless drive to its story-telling.
Especially with its deft intercutting between Blomkvist and Salander as they rattle the skeletons in the very murky closets of the rich Vanger family at the invitation of its patriarch Henrik (Christopher Plummer).
It helps, too, that Steve Zaillian's script offers a slight and smart variation on the answer to the central mystery, even if many of Larsson's earlier plot implausibilities remain.
As he did with depicting Facebook creator Mark Zuckerberg in The Social Network, Fincher knows that he doesn't have to establish his films' resident computer hacker-genius by showing them bashing out lines of code.
Salander's brilliance on a laptop, though, does help give this film a few laughs, mainly at Blomkvist's expense.
Their odd coupledom, here, becomes plausible with Mara and Craig creating an off-kilter chemistry, even before Lisbeth beds him. But elsewhere, there's also space for supporting characters, especially those played by Plummer, Stellan Skarsgard and Robin Wright to breathe.
But in the end, The Girl with the Dragon Tattoo all comes down to the girl. Just as the Swedish screen trilogy was defined - and in its later stages, saved - by Rapace as the powderkeg Salander, Mara is superb.
With her pale, alien face, her coiled-spring physique and her piercings framing her permanent scowl, she's more the singular Lisbeth of Larsson's pages than Rapace's potrayal. Mara delivers the spooked child, the fierce intelligence and all-consuming rage in a mesmerising performance.
So let the Lisbeth Salander fanclub arguments begin: are you on Team Noomi or Team Rooney?
Stars: 4/5
Cast: Rooney Mara, Daniel Craig
Director: David Fincher
Rating: R16 (acts of cruelty and rape, sexual violence and offensive language)
Running time: 158 mins
Verdict: Not so much a remake as a reinvention
-TimeOut
By Russell Baillie @RBaillieNZH

Email

Russell