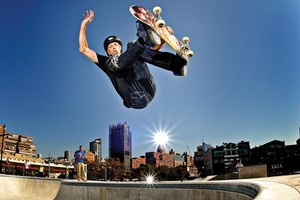 Who's the biggest star of tomorrow's Big Day Out? Noel? Chris?
Well, the number of rock squillionaires darkening the stages of the event might be down on past years with the event having downsized, and the cancellation of Kanye West has left the place decidedly bling-free.
Both former Oasis songwriter Noel Gallagher and Soundgarden's Chris Cornell have a respective net worth in the US$50 million ($63 million) to US$60 million range according to websites devoted to these things. But the biggest name and biggest wallet of the festival's line-up isn't even a musician and his name appears last on the BDO poster.
He's Tony Hawk, who won't be on stage but among the high flyers on the festival's 12m-high vertical ramp where he'll be leading the day's Tony Hawk Vert Jam, having brought his crew of younger skating stars on the BDO tour which he first skated back in 1996.
The San Diego-born Hawk is now 43, a thrice-divorced father of four and is worth an estimated US$120 million. He's still the best-known skateboarder on the planet, even though he retired in 1999 after 15 year of pro competition at age 31.
Hawk gave away competitive skating after finally landing a "900", a trick of two and a half aerial revolutions. It was the last on a decade-old list of manoeuvres he wanted to achieve.
But that was still early days for Hawkcorp. Why he remains such a high-earner a decade-plus later isn't just about his physical abilities but, it seems, a combination of entrepreneurial drive, image control and branding savvy.
What's possibly ironic is that Hawk became head of his own empire - the building of which is described in his 2010 book How Did I Get Here? The Ascent of an Unlikely CEO - after skateboarding fell from favour in the early 90s.
Hawk, a professional on a skate team from his mid-teens, found his paydays further apart, especially with vertical skating out of fashion. He formed his own company and struggled until the advent of sport network ESPN's X Games which gave skateboarding a mainstream spotlight.
The coverage took Hawk from cult hero to action sports star, especially when cameras caught Hawk finally landing that 900 at an X Games on his 11th attempt.
As well as selling his own line in boards and clothing, Hawk built his own extreme sports touring show, the Huckjam series and produced his own skate videos - one of the Unlikely CEO chapters is entitled "Final Cut: The Key to Image Control is getting your own Editing Bay".
When makers of games for the PlayStation generation needed a name to put on their skateboarding titles, Hawk was the obvious choice.
Since the release of first title Tony Hawk's Pro Skater in 1999, there have been more than a dozen Hawk-endorsed console and handheld game titles, which have earned Hawk millions in royalties - though more recent incarnations have fallen from favour among gamers.
Still, if his later games haven't stayed on the cutting edge, the real Hawk is still flying. He's still landing 900s, among his many other freakish fearless moves of split-second timing and aerial grace.
And tomorrow, as he climbs the ramp ladder and drops in, Hawk will probably get more rock star adulation than the day's actual rockstars.
-TimeOut