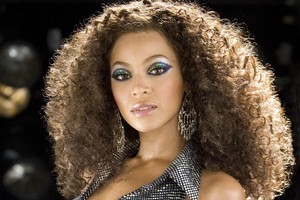 Pop diva Beyonce and rapper husband Jay-Z are the proud parents of a baby girl, media reports say, breaking the news of one of the biggest celebrity births in years.
Beyonce, 30, gave birth by caesarian section on Saturday night in a private wing of the Lenox Hill Hospital in Manhattan with husband Jay-Z, real name Shawn Carter, by her side, entertainment website E! Online reported.
Initial reports had the new showbiz princess named Ivy Blue, but close friends of the superstar couple later confirmed it was the other way around, although Beyonce's hometown paper, the Houston Chronicle, spelled it Blu Ivy.
The Twitterverse was abuzz with reactions from celebrities and fans alike.
"Welcome to the world Blue! We love you already,'' Hollywood starlet Gwyneth Paltrow wrote.
"The most beautiful girl in the world," said Beyonce's younger sister, Solange Knowles, while fellow pop diva Rihanna tweeted: "Welcome to the world princess Carter! Love Aunty Rih."
Beyonce checked into the hospital on Manhattan's upper East Side late Friday under the name "Ingrid Jackson," renting out its entire fourth floor for $1.3 million, the New York Daily News reported.
On Saturday night, people were seen bringing bags of food and wine into the hospital, apparently for celebrations, as security guards patrolled the perimeter.
Beyonce, who rose to fame in the late 1990s as the lead singer of R&B girl group Destiny's Child, has had 12 top 10 pop singles in the United States as a solo artist and has sold more than 25 million albums worldwide.
She has also earned 16 Grammy Awards, three more than 42-year-old husband Jay-Z, who is regarded as one of the greatest rappers of all time and has sold approximately 50 million albums.
Beyonce memorably revealed that she was pregnant at the MTV Video Music Awards in August, telling reporters during a red-carpet chat: "I have a surprise!" as she cradled her swollen belly.
Twitter-users fired off a record number of tweets per second following the announcement.
Blue Ivy is their first child.
A source told the Houston Chronicle: "Blu" is for Jay-Z's hugely successful 2001 The Blueprint album and "Ivy" for the roman numeral IV for 4.
Beyonce was born on September 4, her mother on January 4 and Jay-Z on December 4.
- AFP