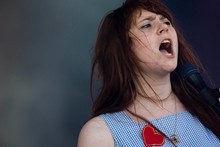 Platinum-selling singer Kate Nash is expanding her network of after-school music clubs, having established six in Yeovil, Liverpool and Bournemouth secondary schools.
The Brit Award winner was inspired, or rather horrified, by the lack of female singer-songwriters in Britain, and has spent a large part of 2011 trying to do something about it.
Only 14 per cent of the 75,000 members of the Performing Rights Society, which collects and pays songwriting royalties in Britain, is female. Despite the success of artists such as Adele and Florence Welch and even her own, Nash was worried enough about the under-representation of women making music that she took matters into her own hands.
The free Rock 'n' Roll for Girls After-School Music Club was born and the star has been taking it to schools across the country.
"It's been hard work but I'm really enjoying it," the London-born Nash, 24, told the Independent. "I was nervous at first but I've built a good relationship with all the kids. It's very casual. We start with a chat about what's going on with me and what's happening in the girls' lives.
Then we do a music writing exercise."
Nash fears the situation for girls is made worse by the huge influence of The X Factor, which restricts contestants to covers and dismisses aspirants with harsh judgments.
Another common theme has been the negative impact of aggressively sexual images portrayed by stars such as Rihanna.
"It's about encouraging the girls to write in a secure environment without feeling judged about what they are saying or the way they look," Nash explains. "Those images upset girls. They want to be musicians but they say they don't have the right look. But you can be a musician without being part of the celebrity culture.
"We project YouTube clips on to projector screens and I show them different kinds of female artists that aren't 'pop', like [all-girl US group] Warpaint, Santigold and [US riot grrrl punk band] Bratmobile. It's good to see different artists."
She has taken the club to six secondary schools across Britain.
"There was one girl in Liverpool. She said she wanted to write songs but didn't know how. So she started writing about her brother, her friendships with other girls and studying for exams. What she wrote was really funny.
"I want to get their imaginations going. We do an exercise where they have to write for three minutes without putting the pen down."
Nash's classes are being held against a backdrop of vastly reduced funding for music tuition from the Department for Education. The money allocated by local authorities will drop from £77.5 million ($156 million) to £58 million in 2015.
The singer called on the Government to overhaul the school music syllabus.
"An academic musical education is quite old hat. Yes, it might help you get grades and become a professional, classical musician. But it doesn't help someone who wants to work in different musical fields. I think the GCSE needs to be much broader."
-INDEPENDENT
By Adam Sherwin