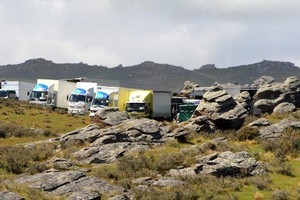 New Zealand has been named as one of the "Top Ten Filming Locations in the Universe" by United States movie magazine P3 Update in its December issue.
New Zealand and Canada were the only two countries individually named in a list comprising the United Kingdom and several states of the USA.
Film New Zealand chief executive Gisella Carr said the accolade was a tribute to the hard work of the country's industry and was also an incentive to invest in our talent.
"Given the current economic climate, it's especially pleasing to see that New Zealand is an economically viable and desirable location for large budget international productions."
Next year was already shaping up to be a big one for the New Zealand screen industry with Peter Webber's Emperor starting filming in January, The Hobbit continuing to film (with Wellington hosting the world premiere in November) and the Jane Campion mini-series Top of the Lake filming in Queenstown late in the year, she said.
"These films aren't even scratching the surface of the many ways New Zealand is contributing to the international screen industry and boosting our local economy.
"Our production and post-production industries continue to grow and build upon success in previous years with international productions like Tintin, Avatar, Yogi Bear, and Spartacus all made here alongside successful local films such as Boy and The Orator.

- APNZ