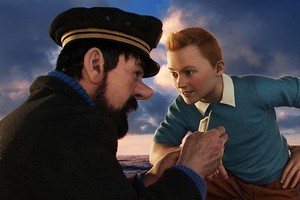 Steven Spielberg has confirmed a sequel to his 3D movie version of the comic book hero Tintin before the first has even been released in New Zealand.
Spielberg told a press conference that Lord of the Rings director Peter Jackson would direct the new film and that he had already chosen the book by the Belgian author Herge that would serve as the basis for the script.
Spielberg was promoting the US premiere of his Adventures of Tintin: Secret of the Unicorn, which already premiered in Brussels in October and has been on European, Middle Eastern and Indian release.
It is due to open in New Zealand, one of the last countries in the world to see the film, on Boxing Day. Much of the film was made in Wellington.
In the sequel, the comic books' bumbling Thompson detective twins "have a much bigger role," Spielberg said.
This time, Spielberg will produce and Jackson will direct, swapping their roles in Unicorn.
"It's being written right now and he's directing it after he does The Hobbit and I'll produce it with him as he's produced this with me," Spielberg said.
"We have the story and we have the book we're adapting from Herge and we can't wait to get started."
Jackson is tied up with The Hobbit until the second film hits cinemas in December 2013.
- AFP