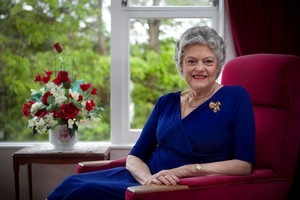 Elegantly coiffed, and standing regally tall in the way that ballet teachers do, Valerie Murray is a graceful woman with a definite presence. As she walks around the studio in her Mangere Bridge home, photos of former students on the walls provide a vivid feeling that class is always in progress here.
Valerie Murray is one of our most celebrated dance educators, with her contributions honoured by a 1992 Royal Academy of Dancing President's Award for her long association and dedication to the RAD, and a 2002 Queen's Service Medal for her services to dance in New Zealand.
Since 1952, she has prepared hundreds of students for RAD Major exams, produced 10 Solo Seal passes, winners in the RAD Scholarship, NZ Bursary, AGC Awards, Christina Laird and John Logan Awards, NZ National Awards, Paul Hammond, Alexander Grant and Rowena Jackson Scholarships, and medallists in the Prix de Lausanne and Adeline Genee Awards.
Her former pupils have gained entry into the Royal Ballet in London, Australian Ballet, the Royal New Zealand Ballet, Royal Danish Ballet and other prestigious companies around the world, and many have made careers in dance teaching.
Now 75, Murray has decided it's time to hand over the reins of her ballet school to others, to cease working 8-12 hour days, and spend more time with her family - husband Paul, their five sons and their families, and of course with her grandchildren.
But before she hands things over, there is a major performance at the Civic Theatre to mark the 60th jubilee of her dance school, SABA Young Ballet, which spreads across four Auckland studios at Mangere Bridge, Manurewa, Epsom and Greenlane.
This event brings special guests from the Royal NZ Ballet to dance alongside her students on the grand Civic stage, and offers free master classes in classical ballet and contemporary dance, taught by former student Nicola Searchfield (first dancer and soloist with the Royal Ballet) and Taiaroa Royal, respectively.
The day starts with a roll-call of current and former students who are coming from all round the world to mark her retirement and share their stories with one another.
Former student Jude Dobson will be master of ceremonies.
When Murray went to her first dance class 70 years ago, it was to cure her flat feet. She took a combination of classes in ballet, tap, acrobatics and fancy dancing.
Later, she joined the Nettleton-Edwards School, and took exams for the Royal Academy of Dancing grades as well as performing in their Ballet Theatre group.
"At five feet nine, I knew I was too tall for the overseas ballet companies, and I loved teaching, so once I passed the RAD Intermediate in 1952, I started teaching in Mangere," she says. "I soon had 40 students, all beginners."
Demand was steady, and by the 1970s there were 600 students and 14 teachers, five locations and regular May school holiday seminars.
More locations were added during the 1980s and 1990s, along with Winter School, a live-in programme with international guest teachers and a scholarship prize.
For almost a decade, a full-time training programme operated at Auckland City Ballet Centre, with students continuing their training at the NZ School of Dance and overseas training programmes.
"I always put the emphasis on bringing out the best in each child," she says, "with attention to technique, musicality, and artistry. I set high standards, with a required uniform, tidy self-presentation, and they had to give their attention to their dancing, listening to the music, which was always live piano, and to my instructions.
"I discovered that I especially enjoyed working with senior students who are aiming for a dance career, and that became my focus, with other teachers employed to teach the early grades. I became very ambitious for those students, helping them to aim for the highest possible achievements."
While she looks forward to retirement, Murray says with a twinkle: "I will continue to coach some senior dancers."
Performance
What: South Auckland Ballet Academy Diamond Jubilee
Where and when: The Civic, Sunday December 11
Roll Call
10am: Tribute To Valerie Murray
1.30pm: Classical Masterclass with Nicola Searchfield
2.40pm: Contemporary Masterclass with Taiaroa Royal
6.30pm: Diamond Jubilee featuring The Fair Comes to Town, with SABA Young Ballet; Sleeping Beauty Pas De Deux, with Adriana Harper and Brendan Bradshaw (Royal NZ Ballet); Diamond Jubilee Ballet tribute to Valerie Murray with SABA Young Ballet
On the net: www.acbc.co.nz