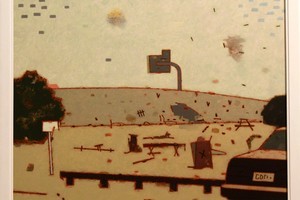 Two extremely contrasting shows this week are enigmatic in different ways. At Te Tuhi in Pakuranga, the rooms are filled with RootMeanSquare, also described as Hansen's Pop Culture Mashup. The principal artist involved is Eugene Hansen, from the School of Fine Arts, Massey University, Wellington, with six more artists as collaborators.
The nature of the exhibition is unified so it is difficult to decipher who does what without careful consultation with the checklist.
One unifying factor is a line that runs chest-high around all the rooms involved. Sound Line by Simon Morris begins as quite wide but drops by 10 per cent at each room as it proceeds. Just why is not apparent.
The line is adorned at intervals by images by Dr Krol, a New York designer. These are pop-culture images done as cut-outs in adhesive vinyl. They range from abstract emblems to a pig in a hat, a lamb contemplating a condom, ranks of flies and women with their feet crossed.
Given these two unifying factors the show gets off to a twittering start with an installation by Jenny Gillam. This consists of 14 alarm clocks, each with a bird on top that wakes and chirps at the set time. The times are dawn at a number of cities round the world. It is a pop variation on the row of clocks that adorn newsrooms around the world. The same artist has two artificial rocks on the floor with speakers in them.
Speakers are the real meat of the show. There are 50 stationed around the galleries, all organised by Eugene Hansen.
His initial practice was as a sculptor and the installations are beautifully made; notably a room full of speakers in geometric shapes such as pyramids and polygons. They are linked to a big amplifier in an elaborate looping system.
The shapes are impressive, the noise is irrational, irritating static as the speakers talk to themselves.
In another room the speakers are in impressively massive wooden slabs and they give out what are apparently sounds recorded on the Silk Road. Unlike the music cellist YoYo Ma collected on the same Asian route, the sounds are more like the work of American composer John Cage, equally random but less evocative.
The historical touch is emphasised by a primitive synthesiser made by Hansen, and the centrepiece of one room. It is not very impressive in itself but the thought is that visitors can enjoy playing with it and with other knobs and switches. But there is no guidance about which, what or how.
If there is visual appeal in this show it lies in the fine cabinetmaking and a couple of splendid valve amplifiers. It is an ambitious installation of a kind only possible when academic investigations meet public gallery space. It is supposed to "pull apart" the world of media in an "entertaining and vibrant" way. The popular media win on both counts in this confrontation.
Des Helmore is having one of his rare exhibitions at Jane Sanders Art. He is an artist who cultivates enigma. He takes ordinary places, landscapes and buildings and combines them into paintings that are truly strange yet curiously familiar.
A work such as Parallel Universe combines sky, buildings, a puddle of water, a man and a shadow in a surreal way.
Helmore is an old-fashioned painter. His draughtsmanship is impeccable as witnessed by his accurate scientific illustrations but there is no virtuoso flourish of drawing in his paintings: his forms are simple and clear. Rather his virtuosity is shown in his handling of paint. Skies and surfaces are deftly brushed in and the handling works in with his individual palette of dark, shadowy colour to give tension and life to the work.
The paintings in this exhibition have an extra energetic factor. Forms shatter into the sky and bits and pieces scatter about. Sometimes this makes the structure too open but generally the works are held together by strong compositions of angles, checks and balances.
In a dark landscape called Drury fields and trees are curiously counterpointed by a gas tank and its piping. Reflections is animated by a tiny flash of white and the same sort of highlight enlivens other work.
These are fine paintings, carefully made, evoking wastelands and familiar territories. They evoke emotions but with no subtext of social comment.
The large paintings by Geoff Thornley at the Fox/Jensen Gallery also make no comment. These big abstractions simply are - existing as things in their own right. The forms that make them up are dimly seen through veils of thin, pale colour.
The exhibition, principally made of five huge canvases, is called Voice of Mimesis. Mimesis usually refers to representation of things and people in drama but there is an extension of meaning to a social mode where one group of people imitates the behaviour of another.
In these paintings dark lines meander, encountering gentle horizontal waves. They imitate each other but never precisely. The lines move through layers of colour and deep within the paintings a grid like those that once predominated in Thornley's paintings can be intuited more than seen.
The results are marvellous, mysterious paintings, gentle in mood but absolutely unphotographable. They do things that only painting can.
Much less complex are the cheerful miniatures by Sarah Hillary at the Anna Miles Gallery. These are largely autobiographical since they show fabric and pottery designs from the painter's family world.
There is a large group of nearly 100 done on shells from New Zealand beaches. The shells are collected in one large case and constitute one work. They have individual charm and collectively cover a variety of styles done with skilled precision.
Contrasting offerings include a rare exhibition by painter Des Helmore
At the galleries
What: RootMeanSquare by Eugene Hansen and collaborators
Where and when: Te Tuhi, 13 Reeves Rd, Pakuranga, to January 29
TJ says: A big, ambitious installation combining sculptural speaker cabinets and sound with an ironic nod to the media.
What: Being there, where? by Des Helmore
Where and when: Jane Sanders Art, Level 1 Blackett's Building, cnr Shortland & Queen Sts, to December 23
TJ says: Virtuoso painting and tight composition allied to strange, fragmented scenes give a surreal quality to familiar localities.
What: Voice of Mimesis by Geoff Thornley
Where and when: Fox/Jensen Gallery, 11 McColl St, Newmarket, to December 23
TJ says: Thornley's work becomes more and more subtle in its remote painterly, abstract way but keeps its size and force.
What: Floating by Sarah Hillary
Where and when: Anna Miles Gallery, 4J/47 High St, to December 22
TJ says: A quiet show of miniatures on shells and paper with details of materials that have special significance for the artist.
Check it out
For gallery listings, see nzherald.co.nz/gallerylistings