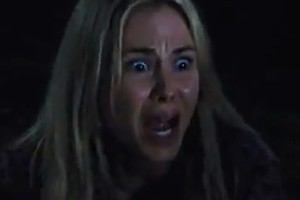 The trailer for the biggest and scariest role yet for Kiwi actress Anna Hutchison has hit the net.
Hutchison, who has starred in everything from Shortland Street to Go Girls and Underbelly, has a lead role in the new horror film The Cabin in the Woods.
Written by Firefly's Joss Whedon and directed by Lost's Drew Goddard, big things are expected from Hutchison's new film - and the new trailer unveiled this week doesn't disappoint.
Hutchison plays Jules Louden, a camp counsellor who goes on holiday to a remote cabin with a group of friends until things take a strange and unexpected turn.
The trailer hints at shady figures controlling events at the cabin, and the film's poster hints at a puzzle that needs to be solved by the group of friends.
The trailer, which also features The Naked and Famous hit Young Blood, has the Hutchison showing off a new American accent, as well as stripping in the woods and dancing seductively in front of a fire.
Later, Hutchison screams as something emerges from a lake.
The film, which has been in post-production for more than two years, also stars Richard Jenkins, Bradley Whitford, Kristen Connolly, Chris Hemsworth, and Fran Kranz.
The Cabin in the Woods is set to be released in New Zealand in April.
Check out the trailer for The Cabin in the Woods:
- Herald online