French actress Lea Seydoux has caught the eye of everyone from Woody Allen to Tom Cruise. She talks to Helen Barlow about playing a villain in the new Mission: Impossible movie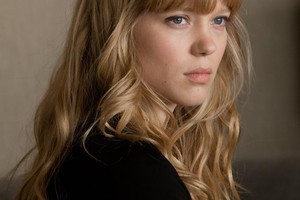 Tom Cruise's death-defying acts are not quite enough for the Mission Impossible franchise any longer. In fact, all over the net at present is the film's babe battle with demure young French actress Lea Seydoux gritting her teeth in full fury as she and Paula Patton fling each other across a room, pull at each other's long locks and look very sexy indeed.
Though Patton, 36, has been around action before, alongside Denzel Washington in Deja Vu (2006), Seydoux, 26, has appeared in period dramas (Robin Hood), romances (with Owen Wilson in Midnight in Paris) and more often French-language films.
So her role in Ghost Protocol has come as a surprise.
"It's my first action movie and it was really, really fun to do," she admits. "I am not used to all that running around. I did some boxing, I had to throw things and also I practised shooting a gun.
"I was really impressed by Tom Cruise. He is such a good actor and he is so fit. He is able to change himself into so many different characters and then he does all the stunts. He's climbing a building in Dubai and it's 900m and he is on the top," she says of the Burj Khalifa skyscraper, the world's tallest building. "He's almost in the clouds. It's crazy."
Seydoux, plays assassin Sabine Moreau in the fourth Mission Impossible movie.
"She kills for money," she says "and diamonds will do just fine."
The story follows Cruise's Ethan Hunt and his IMF team who are tasked with clearing their name after being framed for a terrorist bombing. The team also includes Patton and Jeremy Renner, who reportedly will be taking over the franchise after this film, while Lost hunk Josh Holloway also plays an IMF Agent and has a very significant encounter with Moreau.
"Sabine's brutal, but with a little tenderness, which makes it even more evil," he says.
As the granddaughter of Jerome Seydoux, Chairman of Pathe, and grandniece of Nicolas Seydoux, chairman and CEO of Gaumont, Seydoux comes from a privileged film background. She is quick to point out, though, that her father is a geek, who is not involved with cinema at all.
"My father is a nerd with glasses. He is like a genius and really loves computers and maths. He invents electronic gadgets and he invented the A.R.Drone, a remote-control toy helicopter that you drive with your iPhone, which is pretty cool."
At the age of 10 Seydoux wanted to be an opera singer. "I really love to sing and to dance. I wanted to be Carmen and then I wanted to be Michael Jackson."
She started out as a model and says she only became an actress to impress a famous actor whose name she will not disclose. "I wanted him to see me. Maybe I also wanted to do it because my mother was a movie producer. Now acting is my life. I discovered it by doing it, and in the beginning I had the strength to do it because I was in love with this guy."
Was she successful in getting him?
"It was really hard, but yep!"
A natural in front of the camera, the Paris-born Seydoux was nominated for the Cesar Award for Most Promising Actress for her role in Christophe Honore's La Belle Personne. She has appeared in Inglourious Basterds, the French films Lourdes and Going South, and she loved the idea of stealing Owen Wilson's heart in Midnight in Paris, even if, like her dad, he is a bit of a nerd.
"Owen is brushing his teeth all the time!" she recalls of the actor who plays the Woody Allen role in the director's recent hit, while intimating that the two men have much in common. "He's completely like Woody in the role."
Finally, Seydoux will have her big break as the lead in an upcoming French film, Benoit Jacquot's Farewell, My Queen. She plays the reader to Diane Kruger's Marie Antoinette and the film is a likely candidate for Cannes next year.
"It's the story of the reader in the last days of the French Revolution," she explains. "It's been an exciting film to do because I really love period films."
Undoubtedly, Seydoux has a classic French beauty that makes her well-suited for such roles. "Yeah, I have light skin. It is the way I can travel in time."
LOWDOWN
Who: Lea Seydoux, French starlet
What: Mission: Impossible - Ghost Protocol
When: Opens Thursday December 15
Also: Appearing in Midnight in Paris, now screening
-TimeOut