To say Auckland trio Rackets hit the ground running would be an understatement - the scruffy punk-pop outfit have compressed an incredible amount of activity into its two-year lifespan with no sign of relenting.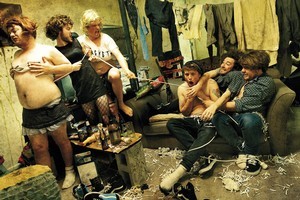 By the time you read this, Rackets will have just wrapped up their latest project, a collaboration with Chrysalis Films named Six Sick Singles, six music videos for six new songs released bi-weekly over a 12-week period (plus B-sides!) to be compiled as an album collection just before Xmas. Frequently hilarious, grotesque, heartbreaking and totally wrong, these videos are an excellent snapshot of a band on top of its game, churning out new ideas at a lightning fast pace and doing whatever it takes to reach new audiences.
Visiting the Chrysalis Films HQ on the eve of their fifth video release, it's apparent that the extended family of musicians and filmmakers has an intense commitment to the project matched only by their adept pot-smoking skills.
Rackets' singer Oscar Davies says that the Six Sick Singles idea emerged a year ago when the band was holed up in Dunedin recording new material, immediately prior to the group's epic two-month tour of New Zealand towns small and large.
"We went to live in Chicks Hotel in Port Chalmers and wrote the songs and toured them at 42 shows all the way back up to Auckland and recorded them," he enthuses. "We thought they'd been well tested by then. We played all the single songs and the B-sides 42 times."
With 12 solid songs in the bag and a backlog of material under their belt, the band had just released their double albums Friends/High Places and had the Down With the Kids EP ready to go Davies was free to consider a new approach.
"It just happened; it hit me and I wrote it all down and then I told as many people as I could. I came to Levi [Beamish, Chrysalis Films] and I told him the idea, and he was like, 'I'll do it as long as I can do all of them'," Davies explains. "I thought it would be a different spin on how to release an album and get your music out there".
When the Six Sick Singles are viewed back-to-back, a story unfolds around the band involving misbegotten romance, band rivalries, rampant drug-taking and rock star ambitions being elevated and crushed, with special guests like Leigh Hart and David Farrier popping up and genuinely funny moments throughout. Director Levi Beamish explains that, while the videos can seem improvisatory, a story arc was firmly in place.
"We had a broad idea of everything that we wanted. Oscar came to me and said, 'This first one's about a bunch of girls who come go to a show and pick us up. This next one's about when we wake up and our girlfriends are really pissed off at us'. We wanted them to have the ability to be watched on their own - we try and make each one like a chapter".
Some of the more harrowing scenes involved the band going to extremes. In a scene where Rackets are shown supping drug cocktails and vomiting in their kitchen, Beamish explains that the reality was in fact much worse.
"I think the real-life experience of all the videos is worse than what appeared on screen. I gagged so hard through the entire kitchen shoot. Jeremy [Amos, guitarist] was vomiting before the shoot even started!" "Yeah I was," Amos confirms.
With the Six Sick Singles project completed, Rackets will be celebrating with an album release and video screening party at Auckland's Snake Pit gallery on Friday 23 December. Never a band to do things by halves, Davies explains that they'll have a wide variety of stocking fillers available.
"We'll have really nice stock posters of all the single covers plus t-shirts with different single covers on them. We'll have lighters and CDs, and if someone will help us to press vinyl and pay for it, we'll plug the shit out of them!"
Looking towards the coming year, the band already has plans.
"One of our ideas is to do a house party tour of New Zealand," Davies says. Amos adds: "The idea is that we do high schools during the day and then house parties at night. What's the record for most consecutive shows played in New Zealand? 50. It would be cool to do 60!"
*Check out Rackets' Six Sick Singles at rackets.co.nz.