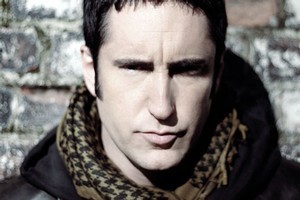 Rocker Trent Reznor is giving away six free songs from The Girl with the Dragon Tattoo soundtrack ahead of the full album release.
The Nine Inch Nails star and Atticus Ross composed the music for the movie remake, starring Daniel Craig and Rooney Mara, taking more than a year to create 39 songs for the record.
"For the last fourteen months Atticus and I have been hard at work on David Fincher's The Girl With The Dragon Tattoo," Reznor wrote on the official Nine Inch Nails website.
"We laughed, we cried, we lost our minds and in the process made some of the most beautiful and disturbing music of our careers."
"The result is a sprawling three-hour opus that I am happy to announce is available for pre-order right now for as low as $11.99. The full release will be available in one week - December 9th ...
"In addition, RIGHT NOW you can download a six-track, 35 minute sampler with no purchase necessary.
"Or... Live the dream and visit both! Atticus and I are very proud of the film and our work, we hope you enjoy."
The full soundtrack will hit shop shelves on December 9.
Download the sampler below:
- AAP