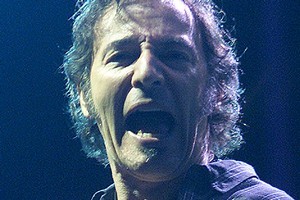 A leaked tour itinerary for 'The Boss' Bruce Springsteen includes an Auckland concert date next September.
But don't get too excited - the Australasian tour dates that seeped into the media could be fake.
The dates were leaked on the Springsteen fansite Blogness on the Edge of Town and include a September 8 show at Vector Arena in Auckland.
Promoters contacted by nzherald.co.nz said they had no information on the alleged tour.
But the 12,500-capacity Vector would be a smaller venue that when the Born in the USA singer was last here at Western Springs in March 2003, playing to a full house of around 50,000 in the rain.
But the date does come at the end of the tour, so there's the possibility of Springsteen playing more than one show.
The leaked dates also include two shows in Brisbane, Melbourne and Sydney.
Springsteen has confirmed a three-month European jaunt throughout May, June and July, but the leaked document also includes US and Canadian dates in March, April and May.
Last month, a "leaked" Madonna tour document showed the pop star kicking off a world tour in New Zealand, but this was branded as fake by her publicist.
- Herald online