Hauraki disc jockey Matt Heath and boy from Te Awamutu, Tim Finn, might seem unlikely collaborators, but over the years they've worked together on music videos, telly shows and an infamous 'Ten Guitars' routine that saw 10 six-strings busted over the head of Heath's Back of the Y comrade, Chris Stapp.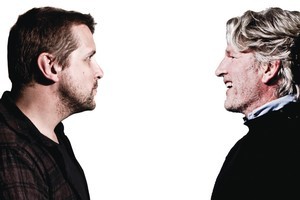 Ahead of Finn's The View is Worth the Climb tour, Matt Heath and Tim Finn got together to talk mic technique and oral hygiene.
Follow Sam Wicks on Twitter for notifications of future Talking Heads and other content on nzherald.co.nz.