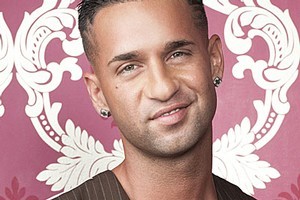 Mike 'The Situation' Sorrentino has filed a lawsuit against Abercrombie & Fitch.
In August, Sorrentino and the cast of Jersey Shore were allegedly offered money by the fashion retailer not to wear the company's clothes. The brand was worried that association with the controversial television series could cause a drop in sales.
The program follows Sorrentino and his co-stars - including Snooki and JWoww - as they party and drink alcohol.
Sorrentino is now suing the company. He claims it has profited off of its "false affiliation" with him.
The star and his company MPS Entertainment filed the complaint in a Florida federal court yesterday.
"Starting in August 2011, Defendant embarked on a grand, worldwide advertising campaign using Sorrentino's name, image and likeness to create brand awareness for its products by falsely claiming that Defendant had offered money to Sorrentino if he would stop wearing Defendant's goods," the lawsuit claims.
"That offer was never made to Sorrentino, nor was it ever conveyed to Sorrentino by a representative."
The suit also claims the company "has significantly profited off of the use of its false affiliation with Sorrentino, and it has wrongly used Sorrentino's name, image and likeness for advertising purposes in violation of applicable law".
Sorrentino and his company additionally took issue with Abercrombie's T-shirt designs featuring the phrases 'The Fitchuation' and 'GTL...You Know The Deal'.
Sorrentino trademarked his nickname, 'The Situation', and the catchphrase GTL - meaning Gym, Tan, Laundry - in 2009.
An Abercrombie & Fitch spokesman was not immediately available to comment.
Sorrentino officially launched his brand new clothing line emblazoned with his nickname, The Situation Nation, last month.
He has also been the face of a number of endorsements in the past. He has promoted Devotion Vodka, Reebok Zigtech shoes and a vitamin line for GNC.
- AAP