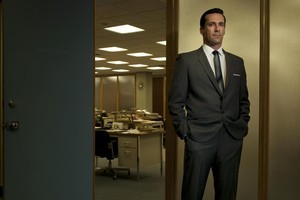 Don Draper - the dapper and dashing hero of television's cult hit Mad Men - will be a withered octogenarian when the show winds down in a couple of years, its creator said in an online interview.
The highly-stylised TV series, set in the American Camelot years of the 1960s, is wildly popular for its acerbic portrayal of a bygone era of three-martini lunches and guilt-free smoking.
Creator Matthew Weiner told Grantland.com that the central character, advertising executive Draper - played by Jon Hamm - will be transported into the present as the show wraps up two seasons from now.
That means that Draper - a debonair playboy in the prime of life in the five seasons of the hit program so far - will wrap up the series as a wizened gent in his mid-80s.
"What I'm looking for, and how I hope to end the show, is like - it's 2011," said Weiner of the program that is appreciated not only as entertainment but social commentary.
"Don Draper would be 84 right now. I want to leave the show in a place where you have an idea of what it meant and how it's related to you," he told the website.
Mad Men, highlighting the suffocating perfection of life in mid-20th century America, including its moral strictures and misogyny, has received several Emmy Awards, the prize given each year to US television's top programs.
Weiner said the series will aspire at its end to depict the arc of Draper's life.
"It came to me in the middle of last season. I always felt like it would be the experience of human life. And human life has a destination," he said.
And Weiner said he looks forward to closing out Mad Men while the show is still riding high with viewers.
"All I want to do is not wear out the welcome," he said.
While he anticipates that the show's end will come in season seven, Weiner said the details remain to be sorted out.
"Do I know everything that's going to happen? No, I don't," he said.
"But I just want it to be entertaining, and I want people to remember it fondly and not think it ended in a fart."
- AFP