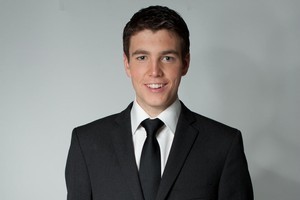 One News reporter Jack Tame is moving to New York to become Television New Zealand's US correspondent.
The 24-year-old, who will take over from Tim Wilson, was offered the role after indicating he planned to leave the network.
"Tim's coming back to New Zealand and as it happens Jack was planning an OE, and this is a practical response to the situation, since Jack was going to be based in the US anyway," spokeswoman Megan Richards said.
"He's been put in the position as a contractor, and he'll work for us as a contractor to avoid losing young talent."
She said TVNZ was hopeful Tame would choose to stay with the network after his contract expired.
"We like to retain our emerging talents, and that's how Jack's regarded, so we'll see how he goes."
Tame yesterday announced the news on Twitter: "So ... am moving to New York to be new US correspondent.
I hear it's a hell of a town? And what an impossible act to follow."
The reshuffle comes during a time of change at TVNZ, including news boss Anthony Flannery stepping down to become head of news and current affairs at Channel Ten in Australia.
Political editor Guyon Espiner will quit the parliamentary press gallery after the election to take up an as-yet-unspecified new role at the state broadcaster.
Espiner took over from Mark Sainsbury in January 2006 and there had been speculation he could replace Sainsbury as Close Up host.
Espiner has said he is not seeking the role, but Tame's move stateside will fuel speculation that Wilson could take over on Close Up.
Ms Richards said Wilson would do a "cross-section" of jobs, including newsreading for TVNZ7.
Garth Bray has been appointed One News' London-based Europe correspondent, taking over from Paul Hobbs.