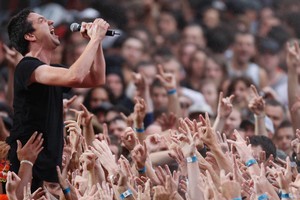 New Zealand organisers of the Big Day Out music festival have admitted they came close to losing the event for 2012.
Kiwi music fans were left reeling by yesterday's second line-up announcement that removed headlining act Kanye West from the bill, and downscaled the festival to just four stages.
Apart from a gap year in 1998, the Australasian music festival has kicked off in New Zealand every year since 1994 and has wowed fans with headlining acts like Rage Against the Machine, Tool, Beastie Boys and Neil Young.
Big Day Out promoter Campbell Smith told nzherald.co.nz it had been "a fight" to keep the Big Day Out here next year.
"We couldn't sustain doing that show like we've done it over the last few years," he said.
"The risk was we might lose the Big Day Out here. It's certainly been a fight to keep the show here."
Smith said the decision to downscale the festival here - just 41 bands will play in 2012, down from around 80 this year - came down to money.
"It's a really expensive show. A lot of costs in Australia are across five shows. New zealand is a stand alone show, all the production comes here for one event. It's just a really expensive thing to put together."
He also said the Big Day Out had grown too fast recently.
"It's gotten bigger and more expansive and maybe that's not necessarily a well planned thing to keep that going like that.
"Pulling it back and starting again and putting it back together is what we're going to do."
Despite losing several stages, including the much loved Lily World, Smith said the festival was constantly evolving.
"I don't think Lily World's dead forever more. It just won't be there in 2012."
And he confirmed Soundgarden would headline the main stage, with Noel Gallagher's High Flying Birds closing the Green Stage with Nero last to play in the Boiler Room.
Other bands set to play the Big Day Out at Mt Smart Stadium on January 20 include Das Racist, Cairo Knife Fight, Kasabian, Foster the People and Royksopp.
- Herald online