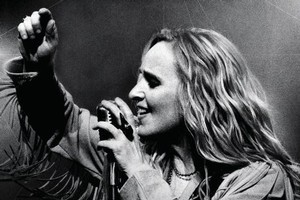 Grammy-winning singer Melissa Etheridge has announced two New Zealand tour dates - but fans are going to have to wait half a year to see her.
The Ain't It Heavy singer is performing at Auckland's Civic Theatre on July 6, and Wellington's Michael Fowler Centre on July 7.
Tickets for the all ages shows go on pre-sale on November 14, and on general release on November 18.
Meanwhile, Auckland fans of Bon Iver need to book some flights if they want to see the folksy singer-songwriter in action.
Bon Iver is performing at Wellington's Town Hall on February 27 and 28 as part of the New Zealand International Arts Festival.
Tickets for the shows go on general release from November 14.
Finally, South Island New Year's festival Earthtonz has added a selection of new acts to a bill that already includes Tommy Lee, The Crystal Method, The Freestylers and DJ Muggs.
Playing on a second stage will be Knights of the Dub Table Soundsystem, Hunting Bears, Simple Thieves, Rhythmonyx, The Station Agents, Dub Side, Getto Blaster and The Fletcherz.
Earthtonz runs from December 30 - January 1 at Gibbston Valley in Queenstown.
- Herald online