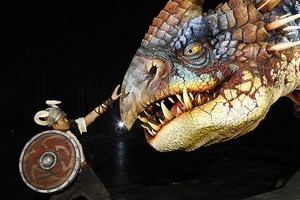 After five years of relentless requests being turned down, organisers of Wellington's Homegrown festival have finally persuaded Fat Freddy's Drop to join the line-up.
Fat Freddy's are part of the second and final line-up announcement for the February 18 all-Kiwi concert, along with Opshop, Sola Rosa and a mash-up featuring Che Fu, King Kapisi and Manuel Bundy.
They join previously announced acts Shihad, The Adults, Blacklist, The Feelers, Kora, Six60, The Black Seeds, Tiki Taane, Kids of 88, Zowie, Optimus Gryme and Bulletproof.
For ticket details and the full schedule, click here.
In other tour news, R&B duo K-Ci and Jojo are coming to New Zealand in December for their Love Life Tour.
The duo cleaned up after their infamous 2008 tour, in which Jojo fell over during a Sydney performance, on their reality show Come Clean.
The All My Life singers will perform at Wellington's St James Theatre on December 14, and Auckland's Logan Campbell Centre on December 15.
Tickets go on sale on November 7.
Elsewhere, there are more additions to the Raggamuffin bill, with Sly & Robbie, Arrested Development, J Boog, Katchafire and Chad Chambers joining Ali Campbell's UB40, Billy Ocean, Marvin Priest, Big Mountain, Kora and others.
The expanded reggae festival is being held over two days this year, January 27 and 28. For more info and the full line-up, click here.
Finally, dates have been confirmed for April's How to Train Your Dragon arena show, one of the largest theatrical performances to ever go on tour.
The show, inspired by the movie of the same name, features 24 dragons, some with wingspans of up to 14 metres, viking warriors and villagers as well as world-class circus and acrobatic performers, flying, stunts, fire and pyrotechnics.
Show times are:
April 18: 7pm
April 19: 7pm
April 20: 11am & 7pm
April 21: 11am, 3pm & 7pm
April 22: 11am
- Herald online