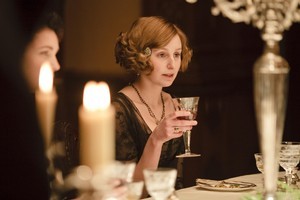 The latest series of Downton Abbey has been slammed by critics who claim the second round of the period drama has far-fetched plots and moves at a pace which leaves viewers confused.
Starring Maggie Smith and Hugh Bonneville, the ITV production proved a hit with Australian audiences, stealing ratings for the Seven Network when it screened earlier this year.
A second sequence of the miniseries hit British screens in September and eight episodes will span the narrative period from 1916 to 1919.
One critic said the latest series moves at a "supersonic pace", leaving viewers confused and storylines unresolved, Britain's Daily Mirror newspaper reported.
Another analyst said the drama had become a soap opera.
But executive producer Gareth Neame said the criticism is unjustified.
"It has become one of the most talked-about dramas in a generation," Neame told the Mirror.
"It is hugely gratifying that the show has struck a chord with viewers."
He denied the series had deteriorated to a soap opera and said the narrative unfolds with "speed and energy".
"First and foremost it is a period costume drama that is filmed very much in a contemporary style, which I hope adds to its appeal," Neame said.
The latest series has previously come under fire after a TV aerial appeared in one scene, and a song was used in another scene that had not been written at the time of the episode was set.