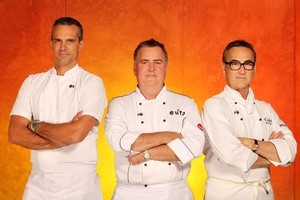 MasterChef New Zealand has gone global - with finalists whisked off to Asia for an episode.
The third series of the hit reality TV show has taken finalists offshore for a cooking challenge - to a set understood to be in Singapore.
Filming for the third series is finishing up this week with the final being shot and producers were keen to keep the show under wraps.
Head judge Simon Gault recently tweeted he was at the opening of a restaurant in Singapore while filming: "At the opening of Annan in Singapore, a must-visit restaurant."
Contestants and judges have signed strict confidentiality agreements and cannot speak about filming.
A TVNZ spokeswoman said producers did not want to discuss overseas filming so any surprises were not spoiled for viewers.
The series of the reality cooking show has been expanded after the success of the first two series.
Episodes have been increased from 13 to 17, and filmed in locations including Hawke's Bay and Taupo.
Contestants are staying at the same North Shore mansion as in previous series.
The show will return to TV One early next year.
Meanwhile, former MasterChef contestant Cameron Petley has been giving celebrity chef Rick Stein tips on how to catch local delicacies.
Petley, a former Herald on Sunday columnist, took Stein eeling in the Waikato ahead of their appearance at Auckland's Taste of New Zealand festival.