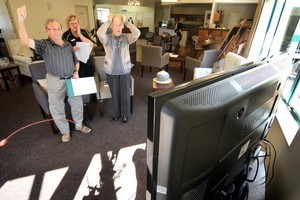 Anne Marie Parsons, who has been watching Coronation Street for 48 years, says TVNZ's changes to the programme's timeslot amount to "elder abuse".
The broadcaster has moved the television series from prime time to a 5.25pm time slot and begun screening MasterChef Australia at 7.30pm instead.
Moving Coronation Street and editing episodes because of the earlier time slot showed a lack of respect for older people, said Ms Parsons, of Roseneath.
"It's elder abuse, and it's all about the money," she said.
"They don't think we're worth having that time slot because they can get more money by screening another programme."
Coronation Street began screening in the United Kingdom in 1960.
Ms Parsons started watching in 1963 "once we could afford a television set".
The programme was full of humour and life lessons, she said.
TVNZ spokeswoman Georgie Hills said the timetabling changes were "not about singling out any one group", nor about maximising profits.
The changes were made after most of the advertising slots had been sold, said Ms Hills.
Coronation Street viewers "have let us know what they think" about the changes, but so too had MasterChef fans, she said. Any decision on whether the time slot permanently changed would be "strongly influenced by viewer reaction".
- APNZ