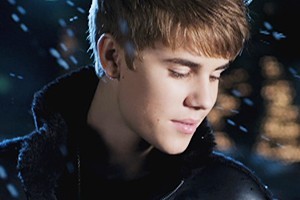 Justin Bieber pashes up a storm with a girl that's not Selena Gomez in the first video from his new Christmas album.
Mistletoe is the new single from Bieber's upcoming CD Under the Mistletoe, due out in New Zealand on October 31.
Cover your ears, because that's just in time for it to be played over and over again at a shopping mall near you.
Other stars on Bieber's festive album include Busta Rhymes, Boyz II Men, Usher, Mariah Carey and The Band Perry. Consider yourself warned.
Check out the video for Mistletoe:
Meanwhile, Britney Spears goes for another bad boy in the controversial new video for her latest single Criminal.
Shot in London back in September, the video was directed by Chris Marrs Piliero and co-stars Britney's real-life boyfriend, Jason Trawick.
During the Bonnie and Clyde-themed shoot, Britney was photographed running out of a convenience store in Hackney waving a fake pistol.
Local politicians on Hackney Council criticised the pop singer for glamourising gun violence during the time of the London riots, and asked her for an apology.
But Britney refused, and defended the clip, saying guns were used as props in all types of entertainment.
"The video is a fantasy story featuring Britney's boyfriend Jason Trawick, which literally plays out the lyrics of a song written three years before the riots ever happened."
Check out the video for Criminal:
Beyonce has rush-released yet another music clip, this time for the song Love on Top.
Some wags are suggesting she's doing it before the baby bump becomes too much of an issue to dance like she does.
This time Queen B dons a ship captain's hat and performs a well-rehearsed routine with a serious of back-up dances.
It's no Single Ladies - but what could ever top that?
Check out the video for Love on Top:
Susan Boyle is in a typically earnest mood for her cover of the Righteous Brothers' classic Unchained Melody.
It's from Boyle's new album, Someone To Watch Over Me, and like Bieber, that will be out before Christmas.
A Bieber-Boyle duet surely can't be too far away.
Check out the video for Unchained Melody:
If that's enough pop torture for you, then the new video from M83 will put a smile on your face.
Midnight City is one catchy number, and comes from an album you should definitely get your hands on, called Hurry Up, We're Dreaming.
But wait, there's better news in store: M83 will be performing at next year's Laneway Festival. Choice.
Check out the video for Midnight City:
- Herald online