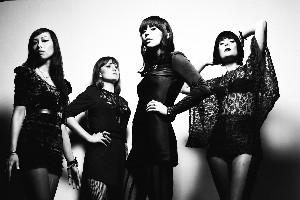 As the summer gig season continues to pick up, it's the ladies who are hitting the road en masse. Leading the charge is hip-hop and reggae-soul sister Ladi6, who plays a string of Christmas and New Year dates including Mangawhai Tavern with the Black Seeds on Dec 29, the Waihi Beach Hotel on Jan 2 and Brewers Field in Mt Manganui on Jan 3 with Kora.
She also plays in Lower Hutt (Dec 26) and New Plymouth (Dec 28) with psychedelic roots rock originals TrinityRoots and at the Coro Gold Festival on Dec 30 and 31.
It's been a big year for Ladi6 who won the Taite Music Prize earlier this year for her second solo album The Liberation Of ..., took away two Pacific Music Awards gongs, and was nominated for a Silver Scroll for the song Nothing To Lose, which she co-wrote with Jon Toogood for The Adults' album.
She is also nominated in five categories at the New Zealand Music Awards on November 3 including album of the year, best single for Like Water, and best female solo artist.
All that and she has toured the world, including shows at British festivals Glastonbury and The Big Chill and a support slot for Erykah Badu in Berlin.
For more info on the tour go to ladi6.com. Tickets on sale October 27 from Ticketmaster.
Fellow soul diva Hollie Smith also plays two shows in support of her latest album Band of Brothers Vol. 1, a collaborative project with beat maker and vocalist Mara TK.
While TK (of Electric Wire Hustle) will not be joining Smith for the shows on Nov 17 at Auckland's Sale St and Nov 18 at Wellington's Bar Bodega, she will have a six-piece band in tow.
Meanwhile, having recently announced her 17-date nationwide church tour, Bic Runga is also playing two club-pub shows ahead of the release of her fourth album, Belle, on November 14.
She plays the Kings Arms on Nov 9 and Wellington's Bodega on Nov 10.
Lastly, Californian indie noise pop quartet Dum Dum Girls (pictured) play New Zealand for the first time.
They have a show at the Kings Arms on Jan 6 in support of their second album Only In My Dreams which was released earlier this month.
- TImeOut