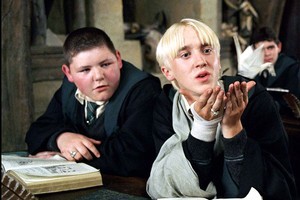 Harry Potter actor Jamie Waylett has been arrested and charged with possession of a homemade bomb.
Police believe Waylett, who played bully Vincent Crabbe in five films of the Harry Potter movie series, intended to use a Molotov cocktail while allegedly looting champagne during the London riots on August 8.
TMZ.com reported Waylett, 22, was identified by security footage and police arrested him on September 20.
Police also claim they found 15 marijuana plants in Waylett's home.
A police statement said: "[Waylett] was charged with violent disorder, having an article with intent to destroy or damage property, receiving stolen goods and also cultivating cannabis plants."
Waylett is due back on court on November 11, TMZ said.
- Herald online