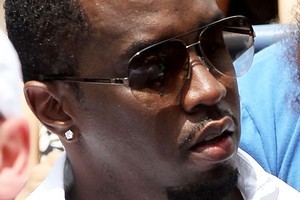 Hip-hop mogul P Diddy is furious after someone posted his personal credit card details on the internet.
The Coming Home hitmaker was appalled to discover his American Express Black Card number had been compromised after a copy of the card, his passport and private phone numbers were all put on a website this week.
P Diddy is said to be aware of the situation and has launched an internal investigation to find the person responsible.
However, having his card details posted on the internet is unlikely to affect Diddy's bank balance, earlier this year he was crowned the wealthiest artist in hip-hop, with a fortune of US$475 million (NZ$599m), beating Jay-Z - who has an estimated wealth of US$450 million (NZ$567m) - to claim the top spot in a list compiled by Forbes magazine.
The rapper and producer's wealth is fuelled by his Sean John clothing brand, Bad Boy Worldwide record label and his vodka brand Ciroc - a joint venture with drinks brand Diageo - which generates his largest profit.
- BANG! Showbiz