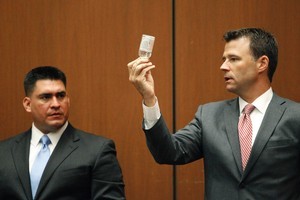 The first bodyguard to reach Michael Jackson's bedroom after the singer's doctor called for help has testified that he was told by the doctor to gather medicine vials before calling 911.
Alberto Alvarez said the doctor, Conrad Murray, grabbed the vials from a nightstand next to Jackson, who was still in his bed.
"He said here, put these in a bag," Alvarez said of Murray.
Alvarez said at first he thought he was bagging the items in preparation for a trip to the hospital. He said he trusted Murray because he was a doctor.
When he entered the bedroom, Alvarez said, he saw Jackson's eyes were open and was surprised to see the singer was wearing a condom catheter.
Alvarez testified that Murray told him only that Jackson had a bad reaction.
Alvarez is the sixth witness to testify in the involuntary manslaughter trial of Murray, who has pleaded not guilty.
Earlier, Alvarez testified that Jackson was in good spirits at a rehearsal on the night before he died.
"He was very happy," Alvarez testified. "I do recall he was in very good spirits."
Prosecutors have been calling witnesses who were with Jackson and Murray the day the singer died.
Authorities accuse Murray of giving Jackson a lethal dose of the anaesthetic propofol in the bedroom.
Prosecutors are calling key witnesses in an attempt to show Murray delayed calling authorities on the day the King of Pop was found lifeless and was intent on concealing indications that he had been giving the singer doses of the surgical anaesthetic.
Alvarez's testimony will likely be challenged by Murray's defence lawyers, who on Wednesday questioned Jackson's head of security and the singer's personal assistant about why they didn't reveal certain details about the day Jackson died to police for at least two months.
Defence lawyer Ed Chernoff asked Faheem Muhammad and Michael Amir Williams about whether they conferred with Alvarez before their interviews with detectives.
- AAP