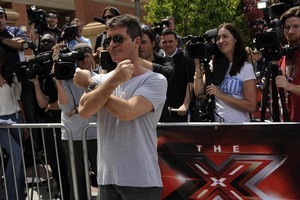 I got a cheeky yet polite email the other day from someone asking me why I recommended watching The X-Factor. This reader complimented me on my usually fine music taste, before imploring me to give X Factor a miss.
I have to point out that after a few email exchanges I deciphered he was not one of these too cool for school music heads. He has a love for all sorts of music, much like myself. It's just that he's not a fan of these sorts of shows. And fair enough too because after 10 seasons of American Idol, and the many other shows of that ilk, does the world really need another talent spotting series from the pop star wannabe mecca of America?
Probably not, but to me, The X-Factor (Thursdays and Fridays, 7.30pm, TV3) is a little different.
Now, I'm not a fan of most of the songs talent show contestants sing, because give me the original of James Brown's Sex Machine or Beyonce's Single Ladies (Put a Ring on It) any day over the mostly butchered renditions that get offered up.
But X Factor is about more than just the music. And what distinguishes it from Idol, and the earnest and by now a little boring The Voice (which reaches its climax on Saturday on TV2), is that the hopefuls have to make an emotional connection with the judges, the audience, and us at home rather than simply coming out and singing a stellar karaoke version of their favourite song.
They are being vetted for more than just vocal prowess and technique, with their personality, attitude, and ambition having to shine through too if they want to make it to the next round.
Xander Alexander, a cocky, rude, and, as it turns out, rather nervy drama queen, found that out on Friday night.
After getting lippy with head judge and X Factor creator "Simone" (that's what Xander called him) Cowell, and throwing a wobbly because he kept being called Alexander, he did a reasonable audition. But, said Cowell, "You blew it because you got the audience to hate you by the end of the audition whereas they liked you at the beginning."
That wasn't the case for likeable hog farmer Kyle Corr, who decided to stop singing to his pigs and serenade the American people instead; or for rugby player and coach Caitlin Koch who did a fine version of the Supremes' Stop In the Name of Love and more importantly she's also a mean scrum-half ("It's like the equivalent of a quarter back in football," she explained to the judges); and then there was down-and-out homeless soul man Dexter Haygood, who, after getting a second chance from Cowell, sang his way into the next round.
There are few other things that make X Factor a different and superior talent show.
The format - whereby the judges are also mentors - is productive rather than simply critique and advice-driven, not to mention adding to the competitive nature of the show.
It also helps that it is snappily edited, which often makes it sensationalist but hey, that's show business.
In saying all this, talent is key - and 18-year-old Melanie Amaro is the standout so far with her near-perfect take on Beyonce's Listen. While it was more on the Whitney side of R&B diva than that of the booty shaking queen, she nailed the song's highs, lows, and power trills flawlessly - and she seemed like a very nice girl too.
So I will be watching again tonight, and plan on washing it down with a hearty dose of Mastodon just to keep my universe in balance.
- TimeOut