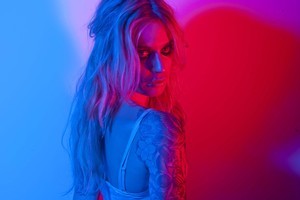 Top songstresses Gin Wigmore and Bic Runga have both announced early summer tours in support of their new albums.
Wigmore will be glamming up our venues in support of forthcoming sophomore set Gravel & Wine, while Runga will be setting out on her second Classic Hits Acoustic Church Tour to celebrate her long-awaited fourth album, Belle.
After performing at Queens Wharf on RWC finals night (October 23) Gin will be setting out on five dates from October 28 until November 5, stopping at Auckland's Kings Arms on Nov 2.
Inspired by time spent in Mississippi and Alabama, Gravel & Wine (due out November 7) sees Wigmore taking on the persona of "this feisty chick who's pissed about stuff, and had her heart broken and things", and shaking out her rock and country, spaghetti western-loving cowboy dreams.
Having performed on the very first Church Tour back in 2004, Runga's latest foray up the aisles might be quite different to her first - her band will be made up of former Mint Chicks rowdy punkster Kody Nielson (who also produced her new album) and Michael Logie, and will see her showcase new material from Belle (due out November 14), as well as performing old favourites.
It'll be her first tour since the birth of her son in 2007, and promises to display a change in direction for Runga, who's also been collaborating with the likes of James Milne (Lawrence Arabia) and Dan Hume (Evermore).
"What I like about working with Kody is he's punk-spirited and deep down I think I am, too. I'm not ready to do what I'm told," Bic says.
Runga and co make their way around 17 of the nation's churches and cathedrals (including Parnell's Holy Trinity on November 22 and 23) from November 17 to December 8.
Meanwhile, Tiny Ruins, aka Hollie Fullbrook, is returning after promoting her album Some Were Meant For Sea overseas. She'll be taking her delightfully intimate folk-pop show on an eight-date tour, kicking off by playing the Hopetoun Alpha in Auckland on November 2.
- TimeOut