The 3D's guitarist David Saunders remembers supporting Nirvana at the Logan Campbell Centre in Auckland on February 2, 1992.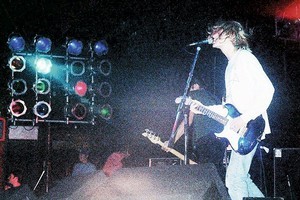 It was pretty much Nirvana's first really big tour, and it was probably a hard time for them realising what they'd got themselves in for.
We hadn't played to a lot of big crowds before. But that show went without a hitch; we didn't have big silences between songs or have to tune up and stuff.
I don't think I'd ever felt more relaxed playing a show. I don't know if it was because there was such a good vibe in the audience - it didn't even feel like we were a support band, the crowd was just so into it.
We probably had one of our best shows. It was bizarre looking over and seeing Dave Grohl and Krist Novoselic head-banging through the entire set. It's quite unusual for a big band to even watch the support band. They were pretty special.
After we played, Dave and Krist came bounding into our dressing room like a couple of kids on Ritalin, wanting to know all about our guitars. It was really strange, but lots of fun.
Seeing the other members of Nirvana with so much energy, and then poor Kurt Cobain in the backstage area doubled over holding his stomach, it's hardly surprising they had a hard time playing.
I really enjoyed them, but I imagine it wasn't what they were like when they were really on form. I liked hearing the earlier stuff, because I'd probably followed them for a little longer than most people.
It was a really great concert, definitely one of my favourites.
From doing that show lots of things happened for us. We got into Australia on some good tours. And I've seen a poster from later in that Nirvana tour when they went to Japan with The 3D's on it. Even though we didn't end up going on tour with them, we had the offer.
At the time I don't think anyone knew how big they were going to get. We were really lucky in New Zealand to get them at that time.
* Flying Nun is re-releasing The 3D's Hellzapoppin on vinyl as part of its 30th anniversary celebrations in November.
- Volume