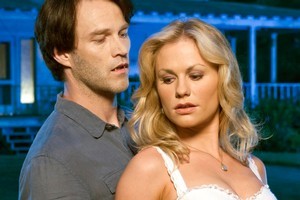 You could catch more than a new pair of fangs searching online for information about Anna Paquin, Kiwi actress and star of vampire series True Blood.
A list of websites teeming with malicious software reveals sites featuring the 29-year-old beauty are on the up.
McAfee surveys dangerous sites yearly and has raised the alert attached to Paquin from 10th on the list last year to seventh this year.
The list is created by determining the percentage chance of landing on a malicious site while browsing for information, video clips or images of famous people.
Fans searching for Heidi Klum - former Victoria's Secret model and current producer of Project Runway - are most at risk of running into online threats designed to steal personal data.
McAfee says clicking on these sites and downloading files like photos, videos or screensavers exposes surfers to online threats such as spyware, adware, spam, phishing scams, viruses and other malware.
Paquin, who plays Sookie Stackhouse in the HBO series True Blood and is married to co-star Stephen Moyer, was born in Canada but moved to New Zealand with her family when she was 4.
She moved to Los Angeles in her teens and there pursued her movie career starring in films including She's All That and Almost Famous.
In 2008 she received a Golden Globe award for best actress for her role in True Blood. Her next film, Straight A's, co-stars Ryan Phillippe and is due to be released next year.
The McAfee study also found troubled actor and former star of series Two and a Half Men Charlie Sheen was not as dangerous to search for as might have been expected following public womanising, struggles with drugs and his sacking from the show. He ranked only 59.