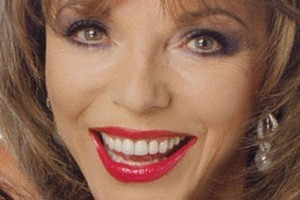 Joan Collins has blasted Kate Winslet's "awful" hair and "dreadful" dress sense.
The 78-year-old actress is stunned by the Oscar winner's disappointing outfit choices and slammed her "ghastly" accessorising at the recent Venice Film Festival.
When shown a picture of the Reader star, Joan - who is famous for her glamorous look - said: "Oh, that's a dreadful dress. The worst dress. And ghastly shoes and an awful hairstyle. I'm sorry."
As well as being critical of Kate, Joan also blasted singer Adele, Gwyneth Paltrow - who recently described her late grandmother as a "****" - and admitted she is unhappy that An Education star Carey Mulligan is to star in a forthcoming production of My Fair Lady.
She told the Daily Telegraph newspaper: "Is [Gwyneth] the one who called her grandmother a rude word on air? I thought that was pretty shocking.
"I don't want to comment on Carey Mulligan. I can't believe she's playing Eliza Doolittle in a new movie.
"Adele is a very good singer, very, very talented, but she has a terrible hairpiece."
Despite her fashion criticisms of so many famous British women, there is one UK star who Joan is a fan of - former Spice Girls singer-turned-fashion designer Victoria Beckham.
She said: "Oh I love Victoria Beckham. You've finally found someone I like."

- BANG! Showbiz