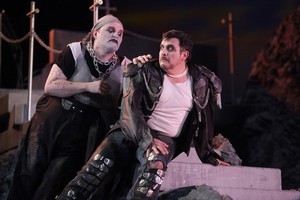 I catch up with English director Mike Ashman in rehearsal for the Wellington premiere of NBR New Zealand Opera's double bill of Mascagni's Cavalleria Rusticana and Leoncavallo's Pagliacci.
It turns out that the first of the two was his unexpected introduction to the world of opera.
"I was 18 and holed up in Portugal," he says. He immersed himself in a recording of Cavalleria Rusticana - rock'n'roll was not available - and "it fitted well with Lisbon's chiming church bells, hot beach cafes and the rather restricted society".
Now he sees these two works of the 1890s with their obsessive nature and impossible love affairs as "the first operas which are modern enough for us to be like movies".
Ashman, whose credentials include an electrifying Faust for NBR NZ Opera in 2007, first tackled the Mascagni/Leoncavallo coupling 15 years ago; now he realises that "you have to look for the drama underneath and get through all the mannered performances that have been associated with these works".
His concept of the operas is very much linked to the sets of John Parker and costumes of Elizabeth Whiting, having approached his colleagues with the suggestion: "Let's not try to set it on Mars, but let's do something different."
The director is too wily to let any spoilers slip out - there are a few twists here and there, he smiles, but I'll have to wait for the night. He is happy, however, to reveal that he is "setting both pieces in the same place on the same day. Mid-stage is a wonderful rock which represents the area in the hills outside the village where the operas are set.
"It's the sort of place where people might meet if they were on a religious procession.
"In fact, it's a little like a Stations of the Cross in which man has made his own steps as he walks through this rocky wilderness, underlining the fact that this is a sort of parable of life and its hardships."
Fans of the Chapman Tripp Opera Chorus, which has contributed such dynamism to the company's previous productions, will be pleased to know that, for Ashman, "these singers are major players in these operas and even more so in our version. They're on stage the whole time. After all, they're the community to whom these experiences happen."
Ashman talks a lot of "team work" and praises his assistant director, Steven Anthony Whiting.
"Steven's knowledge of Pagliacci is so focused and he's so good working on details," Ashman says. "Everything happens on this or that beat, and precisely. Although he's not a dancer, he functions like a choreographer and that is terrifically useful."
Two weeks on, the word has already come in from the Wellington season that this production has been blessed with a first-class cast. Ashman is clearly in awe of Ukrainian soprano Anna Shafajinskaia. "She brings a wild, feral quality to the role of Santuzza, in a way that I haven't heard before. It's amazingly moving."
Opposite her, in Cavalleria Rusticana, English tenor Peter Auty delivers the ill-fated Turiddu "with true verismo blood and guts".
In Pagliacci, American soprano Elizabeth Futral is well equipped for the more complex character of Nedda, "showing, above all, what a brilliant comic actress she is". Mexican tenor Rafael Rojas, a powerful Cavaradossi in the company's 2003 Tosca, plays Canio as a man under great strain. "It's very affecting and he never lapses into mock Othello-like rant," Ashman adds.
Ashman won't pick a favourite but he does admire the detail of Pagliacci and the open more rhapsodic space of Cavalleria Rusticana. "Above all, pacing is very important," he says.
"The music, especially in Cavalleria, is big, very dramatic and very on edge. You have to reflect; you can't exhaust the audience too soon."
What: NBR NZ Opera - Cavalleria Rusticana and Pagliacci
Where and when: Aotea Centre, opening Thursday at 7.30pm, then Saturday, September 17, at 7.30pm, September 21, at 7.30pm, September 23, at 7.30pm, September 25, at 2.30pm