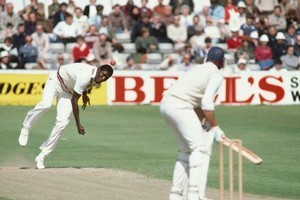 You don't have to be a cricket-lover to enjoy this exuberant ode to an unforgettable era in the history of the game, but it is certainly going to help.
It will help even more if you still have awestruck memories of the years between 1976 and 1984 when West Indies utterly dominated the five-day game, thanks in large part to a terrifying quartet of fast bowlers, who earned the collective nickname "the four horsemen of the apocalypse".
These four - Michael Holding, Andy Roberts, Colin Croft and Joel Garner - were each capable of bowling at almost 150 km/h and they were matched by some legendary batting talent - notably openers Gordon Greenidge and Desmond Haynes and all-rounder Viv Richards.
As its title suggests, the film firmly locates the Windies' ascent to the top of world cricket as part of the assertion of black identity: in the Rastafari argot, Babylon is shorthand for (particularly colonial) oppressors, and one interviewee in the film specifically describes the Caribbean marauders as "slaves whipping their masters' arses".
A major impelling incident was the promise of captain of the English side, Tony Greig, to "make [the visiting West Indians] grovel". The fact that the threat was uttered in Greig's broad South African accent - in the same month as the Soweto uprising - was not lost on the visitors, who won both test and one-day series 3-0.
Fire in Babylon is definitely more than a cricket documentary; serious ball-by-ball nuts may be frustrated at the shortage of match footage. But it's washed with a great calypso sound track and enlivened by the memories of some of the game's greatest. Recommended.
Stars: 4/5
Director: Stevan Riley
Running time: 80 mins
Rating: PG (Coarse Language)
Verdict: Great line and length.
-TimeOut