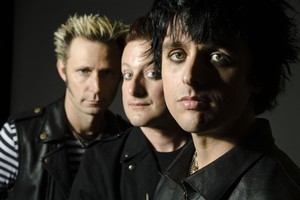 Green Day lead singer Billie Joe Armstrong has been marched off a domestic US flight for refusing to pull up his sagging pants and talking back to a flight attendant.
Armstrong was boarding a Southwest Airlines flight from Oakland to Burbank in LA when an attendant asked him to pull his pants up, the Hollywood Reporter said.
A fellow passenger said the singer responded: "Don't you have better things to do than worry about that?".
The attendant then repeated the request and threatened to remove Armstrong from the flight if he refused again.
He was booted out after responding: "I'm just trying to get to my f**king seat", the Hollywood Reporter said.
Armstrong's travelling companion was also ordered off the flight.
A tweet posted on the singer's Twitter account after the confrontation said: "Just got kicked off a southwest flight because my pants sagged too low! What the f***? No joke!"
Southwest Airlines apologised to Armstrong over the incident and allowed him on the next flight to LA, a spokesman said.
Director and actor Kevin Smith was also kicked off a Southwest Airlines flight in 2010.
The airline told the Zack And Miri Make A Porno director he could not go on a flight from Oakland to Burbank as he didn't fit properly in a single seat.
Smith objected to the decision, telling his Twitter followers: "I'm way fat, but I'm not there just yet." He lost nearly 30 kilograms after the incident.
- Herald Online staff