Hip-hop star Elzhi tells Scott Kara about the 'messy files' of rhymes in his head and what happened with his former band, Slum Village.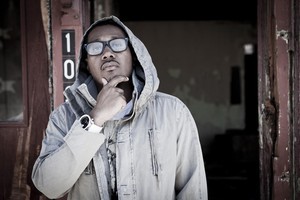 Hip-hop chose Jason Powers, not the other way around.
"I was young, I was looking at getting into something, anything, and then bam, I'm hearing Planet Rock, I'm hearing Run DMC, I'm hearing Rakim, Eric B," says Powers, better known by his stage name, Elzhi. "And it was like, now I'm going to break dance, now I'm going to beat box, now I'm going to freestyle, now I'm going to write my own rhymes."
In layman's lingo, what the Detroit rapper with the fluid but fiery style means is he had no choice in the matter but to take on a life of hip-hop.
"It found me. I wasn't even looking for it and those people made me want to do it," he continues on the phone from his hometown, ahead of his two shows in New Zealand next week.
It was words and word play - "kind of like showing off with them" - that Elzhi fell in love with most, rather than the beats and music that went along with them.
And then, a little later in 1994, Elzhi heard Illmatic by Nas. It was - and still is - a towering hip-hop statement full of powerful observational rhymes which had a major impact on both Elzhi and the hip-hop world in general.
"Illmatic was an evolution. From the deep rhymes, it doesn't get better than that in that time - and the music is on point too. So it definitely made me want to become a better MC and take it to that next level."
More than 17 years on from that landmark record, Elzhi has released Elmatic, which is what he calls a tribute to the Nas classic, and the songs on the album are mostly what he will be playing in New Zealand.
More than a tribute, Elmatic is also a remake of the album as he rejigs the rhymes - the most obvious example being Nas' N.Y. State of Mind becoming Detroit State of Mind - and recreates the music with a live band.
So it has the staunch essence of the original but with a jazzy, silky and meandering mood cast over many songs like Life's a Bitch and Memory Lane.
"I'm a fan of the album so I just approached it as a fan. I'm just paying homage, and I'm not trying to outdo the album, and I just put a little of me in there, got a live band together, and the rest is history.
"And ... I also do what I do and bring that to those tracks, and speak about Detroit and what goes on there."
And what other classic hip-hop album might he look at remaking in the future? Enter the Wu-Tang (36 Chambers), perhaps?
"There are a lot of classic albums out there. The Low End Theory [by A Tribe Called Quest], Enter the 36 Chambers. But I think this might just be a one-time thing."
He admits with a laugh that though Detroit may not be the "prettiest place" it's his hometown and he loves Motor City's creative streak.
"It's a place that births a lot of talented people both on a musical level and beyond music. But let's just stick with the music. It may be a rugged place but it breeds a lot of beautiful creativity. Motown says it all, because all those people were definitely influential on the [music] game, man. And then there's Eminem, J Dilla ... "
Elzhi wrote his first rhyme about growing up in the city, and, he says with a laugh, "about people who influenced me to do things that I wouldn't do today".
"It was basically what I saw and what I participated in at that time," he says. Since then has stored his rhymes and lyrics in his head like "a bunch of messy files" and says recalling them is like second nature.
It was the late J Dilla, the co-founder of influential Detroit rap group Slum Village, who gave Elzhi one of his first breaks, when he appeared on the track Come Get It from Dilla's 2001 debut solo album, Welcome 2 Detroit. Also in that year he was asked to join Slum Village and it was here he started making an impact as an MC.
But there were personal and creative tensions within the group, and in the middle of last year it was announced he had parted company with the group - or, in his words, he had been "removed".
He may come across as one of the more humble hip-hop musicians out there, but Elzhi does have a posturing side to his personality, especially when it comes to Slum Village.
"Before I came into the picture everybody looked upon Slum as just a stylish group and they didn't really think about lyrics or anything like that. And I think that's one of the reasons they brought me because they wanted to add a lyrical content to what they already have."
Still, he doesn't deny the fact Slum Village were the group that "got me in the game".
"I felt like they gave me a voice. But unfortunately things went down, and the group broke apart, which I'm not too proud of."
LOWDOWN
Who: Elzhi
What: Detroit hip-hop MC doing his remake of Illmatic by Nas
Where and when: San Francisco Bath House, Wellington, Sep 7; Fu Bar, Auckland, Sep 8
Listen to: Elmatic, available now
- TimeOut