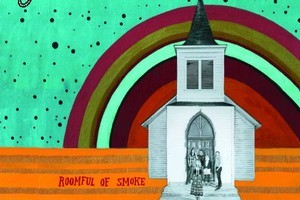 Although a reviewer for America's No Depression said Stevens' voice reminded of Emmylou Harris' (although confusingly added "but you will never be confused by it") Harris' crystalline sound doesn't come to mind at all. (Maybe Melanie's high-pitched folksiness in places.)
But this former LA punk has convincingly moved into alt.country/singer-songwriter territory and with melancholy fiddle and organ on the slow ballad Ballpark Lights she hits a fragile yearning ideally suited to her aching, cold coffee lyrics.
She edges closer to mainstream country (Old Timers, the emotional Patsy Cline-like My Tears Are Wasted on You, the Texas swing of the saucy Don Juan), and at other times country-rock in the manner of the younger Lucinda Williams (the title track).
But it is on engaging, time-suspended material like Winter Fugue ("got a bottle and a guitar ... we're going to lay around here until spring"), the reflective pop-rock of Salvation and the neatly observed narrative of Americans in Rome with six-string twang where this is most interesting.
Her voice may take a little getting used to and over the 40 minutes it does broadcast on a similar range, despite the diversity of the material. And the final track It's Okay to Trip is pure, good mood Melanie right down to the handclaps, lazy "da-da-di-da" and woozy sing-along.
Stars: 3.5/5
Verdict: What happens to punks when they slow down enough to think
- TimeOut / elsewhere.co.nz