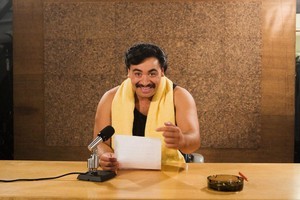 MOVIES
"Where did I get my bag? I pinched it. Heeheehee," is my favourite cheeky Billy T moment. And it's Billy T tribute week this week, with not only Billy T - Te Movie opening in cinemas but this weekend's Sunday Theatre show is the feature-length drama Billy.
Te Movie comes from Ian Mune, who also directed James in Came a Hot Friday, and is a documentary about the life and career of the Kiwi star, made up of remastered footage, re-enactments, animation based on his own cartoons, and interviews with friends, collaborators and some of his family.
Elsewhere at the movies this week, family film Mr Popper's Penguins stars Jim Carrey as a businessman whose eyes are opened to what really matters in life when he inherits six cute penguins; current Doctor Who actor Matt Smith plays Christopher Isherwood in Christopher and his Kind about the thriving gay culture in Berlin during the time the Nazis were coming to power in the 30s; and dark Italian romance The Double Hour also opens today.
TV
Billy (Sunday, 8.30pm, TV One) takes a dramatised look at the life of Billy T James, strting with his 1950s childhood and charting his rise through the showbiz ranks to become the country's biggest star in the 80s.
Also on this week, MasterChef judge Simon Gault hits the road - and the high seas - as he boards a fishing boat to work alongside the crew then whip them up a hearty evening meal in the first episode of his new show Chef on a Mission (Tuesday, 8.30pm, TV One).
And of course the All Blacks play South Africa in the middle of the night on Saturday, but catch the delayed coverage at the more respectable hour of 3.30pm on Prime.
MUSIC
The Feelers cap off their nationwide tour in support of latest album Hope Nature Forgives at the Brownzy in Browns Bay on Saturday; in support will be Australian rockers Thirsty Merc, who also play the Juice Bar in Parnell on Sunday night.
And for something completely different from the land of Bjork and Sigur Ros comes Icelandic cellist, singer and composer Hildur Gudnadottir, who plays the Kenneth Myers Centre on Shortland St at 8pm tomorrow. If her list of touring partners and collaborators is anything to go by - people like Animal Collective and Throbbing Gristle - then expect a sonic trip.
OR...
... Irish comedian Dylan Moran returns to New Zealand to deliver his signature rambling and clever yarns - it's always hard to figure out how much is improvised and what is planned - for his new show Yeah, Yeah. He performs at the ASB Theatre on Wednesday at 8.30pm.
- TimeOut