Stand-up guy Demetri Martin draws on his own experiences, and a sketch-pad, to keep his audience amused, writes Jacqueline Smith.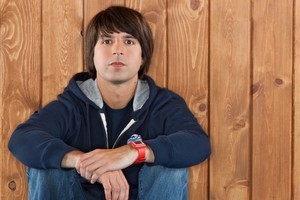 American comedian Demetri Martin is a man of few words, more so than your average stand-up anyway.
"I come from New Jersey which is certainly not known for its comedy, but something mutated and I found myself drawn to that kind of style," he says.
There's a dry, matter-of-factness to his delivery, reminiscent of Flight of The Conchords. And actually he is friendly with Bret McKenzie, Jemaine Clement and Rhys Darby having met them in Edinburgh in 2003, and appeared on their TV series a few years back.
His upcoming tour is his first visit to New Zealand, but he thinks he may have a gauge on the humour Downunder.
"I don't have a large sample size but from the friends I have there seemed to be a great dryness and understatement. It's not that people don't do things that are wacky but there's a rhythm that's probably closer to English comedy than American comedy, which I find really enjoyable. But it's certainly its own flavour. Just knowing the Conchords and a couple of friends of theirs, there's a real pace and patience, and a real straight-faced dry rhythm that I find hilarious."
Martin works at a similar pace, utilising enormous jotter pads.
He's been drawing ever since he can remember, inspired by everyday encounters and musings.
"I draw all the time, it is an authentic part of how I find things funny," he says.
Like simple, calculated jokes, he says he is drawn to simple art that "doesn't have too many lines".
Over the years, his sketch pad has become a focal point of his stand-up show. This means he needs to order a few sketch books in advance before he arrives in a location.
"It's not a large part of the show but it's still the effort of carrying it on an plane and doing the drawings back stage, all those practical sort of details."
Like jokes, Martin prefers his drawings simple, "so that they don't have that many lines in them. They're not particularly elegant, they are simple."
Past shows have included graphs documenting his findings on How Short a Person Is vs How Drunk They Get and How Funny They Are and diagrams on Pony Tail Locations.
"I would say I draw just about every day for a while - some of them are cartoons and others are little sketches."
But Martin has been cutting out a wider career for himself than the man on the stage with the big pad.
He was a regular face for several years on The Daily Show with Jon Stewart where he offered advice on all topics youth-related. He also starred in a 2009 Ang Lee film Taking Woodstock, and is now working on an animated show for Fox.
"After writing a few screenplays for studios that have not yet been turned into films, I decided I would try something smaller, and more manageable," he says.
He enjoys being able to write the lines for characters as opposed to acting, which requires reading the lines someone else has written for him.
"It was helpful doing the Ang Lee movie, but there's something very fun about doing the words yourself," he says.
He thinks being a stand-up has helped his comedy writing as he has been able to use the audience as a barometer.
"You have the great benefit of having audiences tell you immediately whether they think your ideas are funny or not. So it helps you edit."
Earlier this year he completed his first book, This is a Book, which he admits was very difficult indeed because he was writing away for days with no feedback.
Still, he hopes that with so many pages, even readers who don't enjoy his comedy might find something to laugh about.
"There's a lot of it. They can flick through the chapters."
The process of writing a book has changed his stand-up routine a little, he says, but the emphasis is still more on the joke than the life story.
"I've done a few one-man shows where I just told stories, autobiographical material. That was pretty rewarding but I always fell back on just jokes.
"I think it's maybe more that I'm trying to observe how I feel; I started in a place that was more cerebral maybe, just not as emotional. Not that my stuff is all that emotional now but I think as I get older I'm more in tune with that sort of stuff," he offers. "I'm less of a statistician now."
LOWDOWN
Who: American comedian Demetri Martin
When and where: Monday, August 29 at 8pm and 9.45pm at SkyCity Theatre, Auckland
- TimeOut