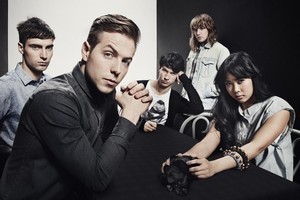 Video sharing site Youtube has moved quickly to ban a steamy video accompanying a new single from New Zealand band The Naked And Famous.
The band, whose single Young Blood debuted at number 1 in the New Zealand album charts last year, released the video for The Sun from their album Passive Me, Aggressive You today.
A post on the band's website said they were "blown away" at the work of directors Campbell Hooper and Joel Kefali from Auckland creative studio Special Problems.
But the video, which features a naked man and woman, has been deemed to offensive for Youtube.
The site's decision to ban the video hasn't stopped dozens of fans liking and reposting the video from The Naked And Famous' blog.
Mr Hooper and Mr Kefali also shot the videos for Passive Me, Aggressive You tracks Young Blood and Girls Like You.
They have worked with New Zealand artists including Crowded House, The Mint Chicks, David Dallas and Cut Off Your Hands.
The Naked and Famous are booked to play at Auckland's Town Hall on November 4, on the back of 133 shows around the world at - including sets at Glastonbury in Britain and Japan's Fuji Rock.