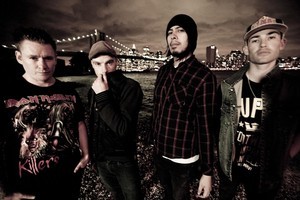 The Feelers' standing as the people's band is under threat. While record sales are not the most reliable indicator of popularity these days, sometimes it's the only gauge you've got to go on, and this week London-based, predominantly Kiwi rock outfit I Am Giant nabbed the honours on the album chart coming in at No. 2 with debut The Horrifying Truth. The Feelers, still one of New Zealand's best-selling bands - whether you like the likely lads' music or not - were back in No. 4 spot with fifth album Hope Nature Forgives.
Regardless of their status, both bands - who have impressive, albeit very different pedigrees - have come up with solid records.
The Feelers' first album in five years, following One World, comes after a time of change within the band's ranks, with hearty perennials Hamish Gee on drums and frontman James Reid joined by newcomers Andy Lynch (formerly of Zed) on guitar and bass player Matt Short.
In contrast to One World's more wistful and often reflective mood, Nature starts with the sort of hiss and a roar not heard from the Feelers in years - or possibly ever.
Opener Didn't Want To Fall In Love is sauntering blues rock, but it's Snakes (Can't Fix Me) that whips the album up, like modern day U2 doing punk (perhaps). But it soon takes a more pensive, rocky turn on the gentle, graunching, almost post-punk groove of Dasvidaniya, into the beautiful swooning sadness of Suicide Dancer, and branches off into foreign Feelers territory on the Pogues-style sea shanty stomp Sweet the Tempest and the exotic and sprawling title track to end.
While it gets bogged down by a few dreary moments, like Narrow Lanes with grand-yet-predictable lines like "if there's no beginning, there will be no end in sight", it's jaunty first single Blue Skies (a song which has one of Reid's inspired lines, "I've got a Joe Pesci baseball moment, swinging round my head") that shows Hope Nature Forgives delivers more of what you expect from the Feelers. On a heavier, but no less grand, mass rock appeal bent, are I Am Giant, the band started by Blindspott's Shelton Woolright and Paul Matthews of Stylus in 2009.
Though it took a while for the pair to find a singer, they finally discovered British chap Ed Martin - and the guy can sing. It's hard to find a solid rock singer these days and Martin can also soar high, near falsetto range, which is what lofty rock anthems like Neon Sunrise and catchy breakthrough song City Limits need.
The thing is, on the album, these obvious rock radio hits, along with the beautiful brood and explosion of a song like Let It Go, are tempered by two haunting interludes, the best of which is The Haunting of Elinor Shaw (about a woman who was burnt at the stake in the 1700s), and four longer epics, with the excellent Drag My Name Through the Mud prog-like in scope as it moves from a riffy chugger into dreamy heavy rock balladry and back again.
If anything, Horrifying Truth could have done with a cull, because at 14 songs and an hour long it's one big slab of beefy, brawny rock to take in. So although Night Vision is lovely, it stalls the album's momentum and perhaps one of the longer tracks could have been saved for the next EP or given away as a freebie. Although that's hardly a downside for what's an unashamedly big, ballsy and ultimately appealing heavy rock record.
The Feelers
Hope Nature Forgives (Independent)
Stars: 4/5
Verdict: More polished rock for the masses then
I Am Giant
The Horrifying Truth (Sony)
Stars: 3.5/5
Verdict: First dose of polished heavy rock for the masses