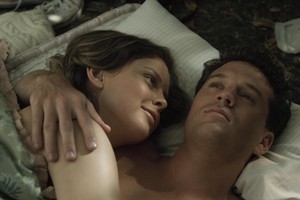 Playing in this week's Sunday Theatre slot, Tangiwai tells the story of just one of the victims of the train crash that claimed 151 lives on Christmas Eve 1953.
Rose McIver plays Nerissa Love, the 19-year-old fiancee of Kiwi cricketer Bob Blair. He was on tour in South Africa and she was on her way from Petone to Auckland to meet him off the boat. They were madly in love and planned to marry, against Nerissa's mother's wishes.
The night before a test match against South Africa, the New Zealand cricket team received news of a terrible rail disaster that had killed 153 people on their way to Auckland for Christmas. Blair learned that Nerissa was one of the victims. He at first withdrew from the match but then surprised his teammates and country by emerging to hit a six just as the Kiwis were starting to slide.
It was not only because it was her first death scene that the role was one of the more difficult McIver has taken on. She had to portray a real person, whose nieces, nephews and cousins were regularly on set.
"I wanted to tell her story with integrity," McIver says.
The family worked closely with the writers during scripting and shared photographs of Nerissa with McIver. McIver says she looks quite different to Nerissa, but it was more important to tell her love story, and to honour a tragedy that still weighs on the hearts of many New Zealanders. That meant freezing early mornings and late nights on the banks of the central North Island's Whangaehu River, into which the Auckland-bound passenger plunged after a lahar swept away the bridge. McIver says her time on location brought home the terrifying conditions faced by those who survived.
The film was paid for with $2 million from New Zealand On Air's new platinum fund, designed to underwrite quality local programming. This helped with the creation of a scale model of the train, about one sixth of the size of the original, built by Weta Workshop and used in the crash scene.
McIver feels honoured to have been involved in the retelling of the story, and is only sorry she was not more aware of the event beforehand. "Before I read my script, I had only heard the words 'Tangiwai disaster', and did not really know what had happened. I think it should be part of every New Zealander's education."
She has since met many people with personal connections to the tragedy - the descendants of the dead and the survivors. Those descendants never forgot the way they felt when the list of names were read out on Christmas Eve all those years ago.
Nerissa Love and Bob Blair's story will resurrect memories when it screens this Sunday, and the writers Donna Malane and Paula Boock have opened a forum for people to share their stories.
When: Sunday, 8.30pm
Where: TV One
What: The fateful train
- TimeOut