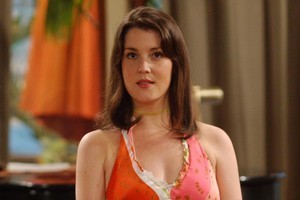 Charlie Sheen's Two and a Half Men character will meet a horrific death under a subway train - and a Kiwi actress is responsible.
Sheen was fired from the sitcom in March after blasting the show's creator, Chuck Lorre, and network executives. He has since been replaced by former That '70s Show star Ashton Kutcher.
According to gossip site TMZ, sources who attended the taping of Kutcher's first episode on Friday have revealed how producers decided to kill off his character, Charlie Harper.
They told the showbiz website that Harper marries Rose, the stalker with whom he flew to Paris last season, before meeting a grisly death in the French capital's Metro network.
At the funeral for Sheen's character, Rose - played by Kiwi actress Melanie Lynskey - reportedly says she found him in the shower with another woman.
The following day, she says, he slipped and fell while the two were waiting for a subway, with the implication that Rose probably pushed him.
International websites reported yesterday that despite the on-screen death, Sheen has promised to host a real-life party and home screening to celebrate Harper's demise.
"I will be watching my fake funeral, attended by my fake ex-girlfriends, from my very, very real movie theatre, with my very real hotties in tow," he said.
CBS Entertainment president Nina Tassler said last week that Kutcher, 33, would play Walden Schmidt - an "internet billionaire with a broken heart" - as he takes over the vacant lead role.