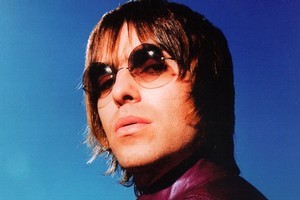 Liam Gallagher has branded his brother Noel a "little bitch" for claiming he was bullied out of Oasis.
The singer was recently blamed by his guitarist sibling for forcing him out of the super-group with his aggressive behaviour - which culminated Liam attacking Noel with a guitar backstage before a Paris festival appearance in August 2009 - but the Beady Eye frontman insists he is just making excuses for wanting out.
In an interview with MTV Canada, Liam said: "I just know he lies. Noel wasn't bullied out of the band. And then he writes a statement saying 'Oh, I've been bullied out of the band,' and management and all that, and two days later, the people he reckons bullied him, and the people who weren't listening to his little sob story, were around at his house having tea on his lawn. I'm just disappointed for him, and his fans ... I have my [bad days] but Noel Gallagher can be a little bitch when he wants to be."
Meanwhile, Noel has claimed Liam left him "creepy" voice messages after they had an argument over the Bring The Light rocker's demands to advertise his fashion label in the Oasis tour programme.
The 44-year-old songwriter told the 38-year-old singer he wasn't allowed to sell his Pretty Green clothes to the group's fans during their Dig Out Your Soul Tour, and afterwards Liam would call him and his then-girlfriend Sara MacDonald in the middle of the night to abuse them.
In an interview with Mojo magazine, Noel said: "The tour started and everything was all right, but then the f***ing clothing thing started up, and he wanted to advertise in the tour programme. I said no ... He hit the f**king roof.
"From then on I would be getting up in the morning and our answering machine would have strange messages from him in the middle of the night. It started off as offensive, then weird, and finally creepy. We changed our number. I'd go in the next day and say, 'What was that all about?' and he'd say, 'I don't know what you're talking about.'
"When we changed our number he started leaving messages on my (girlfriend's) phone. She'd get up in the morning and there would be things like, 'Tell your f**king boyfriend ...' This was insane."
- BANG! Showbiz