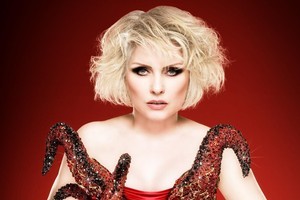 George Michael has revealed his first crush was Debbie Harry.
The Careless Whisper singer admits he fantasised about Blondie singer when he was a teenager and before he realised he was gay.
And the 48-year-old musician told Debbie, 66, about his feelings when he met her at the Lovebox music festival in London last Sunday.
Recalling their impromptu meeting, George wrote on his twitter page: "She (Debbie) looked great. I told her that before I worked out I was a poof she was my first crush ... (which is true!) ... Not sure if she took it as a compliment. (sic)"
The pop star - who came out as homosexual after he was arrested by an undercover police officer for engaging in a lewd act in a public toilet in Beverly Hills in April 1998 - had a great time at the festival, which was headlined by The Wombats, Snoop Dogg and the Scissor Sisters.
George was hanging out backstage in between performances and met up with Gossip singer Beth Ditto and Scissor Sisters frontman Jake Shears.
He added in other tweets: "Went to Lovebox festival Sunday ... Met the lesbian chanteuse that is Beth Ditto. She was a sweetheart.
"Bumped into Jake Shears from the Scissor Sisters who was as friendly and cute as he always is ... So it was definitely worth putting up with the rain. (sic)"
- BANG! Showbiz