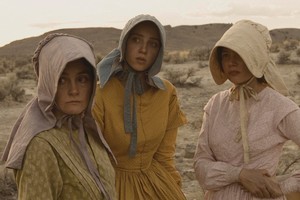 Shirley Henderson as Glory White, Zoe Kazan as Millie Gately and Michelle Williams as Emily Tetherow in Meek's Cutoff . Photo / Supplied
The bane of the film reviewer's life is the preview in the middle of the film festival. Having already programmed three dozen or so festival movies in 17 days, I'm not very keen on having to go to the movies elsewhere.
But I'm making an exception this morning for a preview of the NT Live production of Chekhov's The Cherry Orchard.
If you haven't come across the NT Live series, you are really missing out on something. The scheme, based at Britain's National Theatre, consists of filming productions live (cameras rolling around on the stage and stuff; the audience gets a cheap ticket as a result) and broadcasting them in real time to cinemas on both sides of the Atlantic.
Stuck at the other end of the world, we have to see them screened off hard drive a few weeks later but it's really almost as good as being there and those who grumble about the $35 ticket price probably haven't paid for a theatre seat on the South Bank.
The good folks at Rialto Distribution struggle to break even on this venture because they are strictly limited by agreements the National has with actor unions as to how many screenings they can put on.
I've seen some great theatre in this series including the best Lear (Jacobi at the Donmar Warehouse) I've ever seen, and an entrancing Hamlet (Rory Kinnear).
Today it's Chekhov, a playwright I've always struggled with and I'm not encouraged by a passage I read at the weekend in Michael Frayn's Stage Directions (Frayn is a respected translator and critic of Chekhov) in which he calls The Cherry Orchard "the most elusive and difficult of all [the major] plays".
I'm taking my mate Tom, a Chekhov fan, so he can explain it all to me.
UPDATE: 1:10pm. It's wonderful. I'm in danger of becoming a Chekhov-lover. Review in TimeOut on Thursday.
Then to the festival. I've already seen a few of the films screening today and can certainly recommend the haunting and handsome Meek's Cutoff.
It's a Western of sorts, another great role for the versatile Michelle Williams, who impresses me more and more every time I see her. What's unusual about the film is that it tells a women's story - the men are more peripheral archetypes and the women are radiantly specific personalities.
It certainly gives you a taste of how tough life was for women as they pushed the western frontier back: scenes in which they wait, patiently sewing, while the men - in particular the title character, a guide who doesn't have much idea where he's going - debate what to do next.
My own viewing includes A Boatload of Wild Irishmen, the portrait of pioneer documentarian Robert Flaherty, which looks to be anything but hagiographic; and the Iranian film A Separation.
I've heard glowing reports of the latter from people who've already seen it and this is the last screening. Might be a mistake to miss it. This is not the kind of movie that makes it back on general release.
Special treat: The Forgiveness of Blood Rialto, 6.15pm. The second feature by Joshua Marston who made the fabulous Maria Full of Grace. See my interview with Marston here.