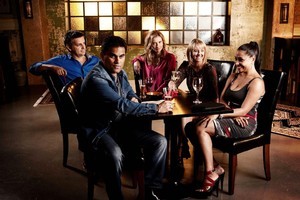 Every once in awhile, a programme comes along that is specially created just for 43- year-old, angsty, Scrabble-playing, red-wine-drinking solo mothers from Parnell with a shameful stock of random pop-culture factoids. Not awfully often, I'll grant you, but when they do, it's just spooky.
New local series Nothing Trivial seems to have been ordered up just for me. It made me laugh: "It would be like rooting a cheese grater."
It made me cry. I mean, really cry. "There is only one happiness in life, to love and be loved." It made me learn stuff: the 54th element on the periodic table is xenon. What more do you want out of a TV show?
The story of Nothing Trivial, which debuts on TV One on Wednesday, focuses on the team in a pub quiz, all of whom are a bit lost in love - so there is probably a character for everyone.
Intense GP and solo mother Catherine (Tandi Wright); bombshell Michelle (Nicole Whippy) in the midst of a nasty divorce; drippy Emily (Debbie Newbie-Ward) recovering from a relationship with a bully; Mac (Shane Cortese) a separated father of two still pining after his ex; and Brian (Blair Strang), single and a bit of a player.
I realise it sounds a bit bog-standard and banal, but that's because I am not a brilliant writer like Rachel Lang and Gavin Strawhan (Outrageous Fortune, Go Girls) who created it.
The writing on Nothing Trivial is good enough to be have been penned by the guru of romantic comedy, Richard Curtis (Four Weddings and A Funeral, Bridget Jones's Diary).
In fact, there is a very funny scene of a Maori myth school play which seems to echo the PC lobsters from the nativity play in Love, Actually. Both juxtapose childhood innocence with world-weary self-help book adult cynicism.
Fortunately, Nothing Trivial doesn't seem so cloying as Love, Actually because it has a good dose of Kiwi, hard-case humour that wouldn't be out of place in Outrageous Fortune. (Interestingly, Richard Curtis was born in New Zealand.)
Most importantly, the characters in Nothing Trivial really come alive from the first episode. They seem like people you could know but, of course, wittier. "You're only as young as you feel," someone tells Eyeore-ish Catherine. She replies, deadpan: "Which would make about 92. [Long pause.] I'm not really joking."
I don't want to put you off by making Nothing Trivial sound too pink and glittery and chick-litish. It is cleverly structured in a sort of post-modern time continuum way in which clues about later events are planted in earlier flashbacks - what was that bath doing there? Why did he kick that tree? - so you can satisfyingly join the dots and piece the timeline together.
And though the quiz questions are fun - Oscar Wilde's young lover's name was Boatswain - there are intriguing blanks to be filled, such as the mysterious Nigel who hasn't turned up yet.
It is a treat. But then I would say that since Nothing Trivial was ordered up specially for me.
Nothing Trivial debuts on TV One, Wednesday at 8.30pm.
-Herald On Sunday / View