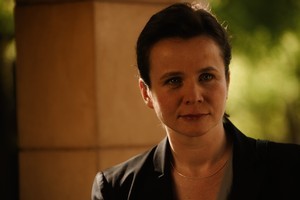 Outside, the sky is overcast. Inside, it's not much better. A rather pensive-looking Emily Watson is perched awkwardly on the edge of a sofa, trying her very best to blend into the anonymous surroundings. She's been here all afternoon, talking up her new film, Oranges and Sunshine, but the way she's dressed - navy hooded top, black slacks and a pair of trainers - you'd think she'd just been for a jog. Then again, at 44, Watson probably has no interest in impressing me with a designer wardrobe.
Hers is a practical ensemble, one that suggests she'll soon be back home looking after her two young children.
Fifteen years on from making her Oscar-nominated film debut in Lars von Trier's Breaking the Waves, Watson's career is a testament that talent alone will see you through. Her privacy still very much intact, while you won't find her working the red carpets, she's managed to flick her Hollywood career off and on like a light switch.
"I feel I'm established enough there to be remembered," she says, her voice both quiet and resolute. "I work enough to keep a little flicker of 'oh yeah, I remember her'. I think if I wanted a big American career, I'd need to be over there and put myself about a lot more than I do."
Having kept the Hollywood trash to a bare minimum (the risible Red Dragon aside), she garners the utmost respect wherever she goes. Jim Loach - son of Ken, and director of Oranges and Sunshine - calls her "one of the best actors of her generation".
But these days, her priorities are more family-oriented - her husband, Jack, who she married back in 1995 after they met at the Royal Shakespeare Company, and their two young children, Juliet, 5, and Dylan, 2. She says she's worked "much less" since becoming a mother.
Certainly, her recent output has not only slowed but also kept her closer to home, her only notable film role of the past year being the put-upon mother in the Ricky Gervais/Stephen Merchant comedy Cemetery Junction.
Does she ever feel like she's missing out? "Oh God, no," she cries. "I don't feel ambitious anymore. I really don't. It's such a pleasure going to work, and I love my job, but if I had to give it up tomorrow, I would. But actually I can't, because I'm the breadwinner and I have to keep going. So I won't. I have to find a way of making it all work and putting it all together."
In the case of Oranges and Sunshine, she took her children with her to Australia for part of the shoot. If there's such a thing as a typical Watson film - harrowing, heartbreaking - then this is it. A true story, she plays Margaret Humphreys, a Nottingham-based social worker who in 1986 discovered that hundreds of children three decades earlier had been shipped off to Australia by the British Government. While many of those kids were living in care homes in Britain, most were not orphans. Separated permanently from their families, they were "banished" as Watson puts it, to live in brutal Catholic-run institutions.
Adapted from Humphreys' book Empty Cradles, Watson is evidently in full admiration for a woman who dedicated years to reuniting the former child migrants with their families, going back and forth between England and Australia at the expense of her own home life.
"When you've got young kids, it must be really, really hard," she says. "But she didn't have any choice but to step up and answer that call. That has been the compromise of her life - she's missed out on a lot of her family. But they're a very strong family, and that's testament to her husband and her children."
While Loach praises Watson's "brilliant mixture of strength and compassion" in the role, you just have to listen to see it's something that's part of her makeup. Take her reaction to the fact that the Australian and British governments proffered belated apologies to the victims of this shameful scheme.
"For them to be told, 'You are our children. You are our citizens. You belong', was huge," says Watson, who admits it did affect those on the film. "We came to more and more understand the enormity of what it meant to those people. There was some sense of the acknowledgement of the irreparable harm that had been done."
Watson's own upbringing seems far removed from the emotional turmoil of Oranges and Sunshine.
Born in Islington, her adolescence was decidedly stable. "I'd love to say I was a rebellious teenager but I wasn't," she shrugs. Describing herself as a "nice, middle-class English girl", her background is pure professional. About the only dilemma in her teens was a lack of confidence.
"I was the overweight teenager," she once said. "I don't know why ... my sister always seemed thinner, taller and blonder."
That said, she also describes her upbringing as "unconventional". She was raised without a television in the house and she and her sister were encouraged to read classical English literature. Eventually she joined the RSC, "wenching and spear-carrying" for two years, before transferring to the West Yorkshire Playhouse and, finally, the National Theatre.
Then came Breaking the Waves. As Bess, the impressionable, Puritan-bred lass from the Scottish Western Isles, who sleeps with other men upon the instruction of her paralysed Danish oil-rig worker-husband, Watson gave a gut-wrenching, unfettered performance. She arrived an unknown at the 1996 Cannes festival, where the film received a standing ovation, and left a star-in-the-making.
She went on to gain a second Oscar-nominated turn as celebrated cellist Jacqueline du Pre in Hilary and Jackie.
When we meet, she's just ticked off yet another milestone, having completed filming on Steven Spielberg's forthcoming War Horse, an adaptation of the Michael Morpurgo novel and play set across World War I, in which she plays beleaguered wife to Peter Mullan's alcoholic father.
Watson is now playing another social worker in Appropriate Adult, a one-off TV drama about Janet Leach, who found herself sitting in on the police interviews with Gloucester serial killer Fred West (played by The Wire's Dominic West).
Is she expecting controversy? "I'm sure there'll be a lot of interest. But I'd be surprised if there was a big outcry. It's very respectful. It's not about the murders and the victims. It's not grisly. It's not gruesome. It's none of that stuff. It's about the police interviews, really."
Still, another traumatic role in a career made from them. Any chance of a rom-com? "I'd love one," she chuckles. "I never get asked."
LOWDOWN
Who: Emily Watson
What: Oranges and Sunshine
When: Opens at cinemas July 28
- Independent